The Rijksmuseum van Oudheden (the National Museum of Antiquities) in the Netherlands has announced that a unique treasure of 1000-year-old gold jewelry and silver coins has been found and will be public as part of a new exhibition.
The hoard was found in 2021 by a metal detectorist in Hoogwoud (Opmeer municipality in North Holland).
The hoard consists of four decorated gold earring pendants in the shape of a crescent moon, along with two pieces of gold leaf that fit together, and 39 small silver coins from the medieval period. The coins date from 1200 to 1248, indicating that the hoard was buried around the middle of the 13th century. However, the jewelry, a prized heirloom collection, was already 200 years old when it was buried with the coins.
Lorenzo Ruijter, a Dutch historian and metal detectorist, discovered the hoard in Hoogwoud, in 2021. He informed regional heritage authorities about his discovery. He had to keep his discovery hidden for two years while experts at the National Museum of Antiquities cleaned, conserved, and investigated the hoard before announcing the incredible find.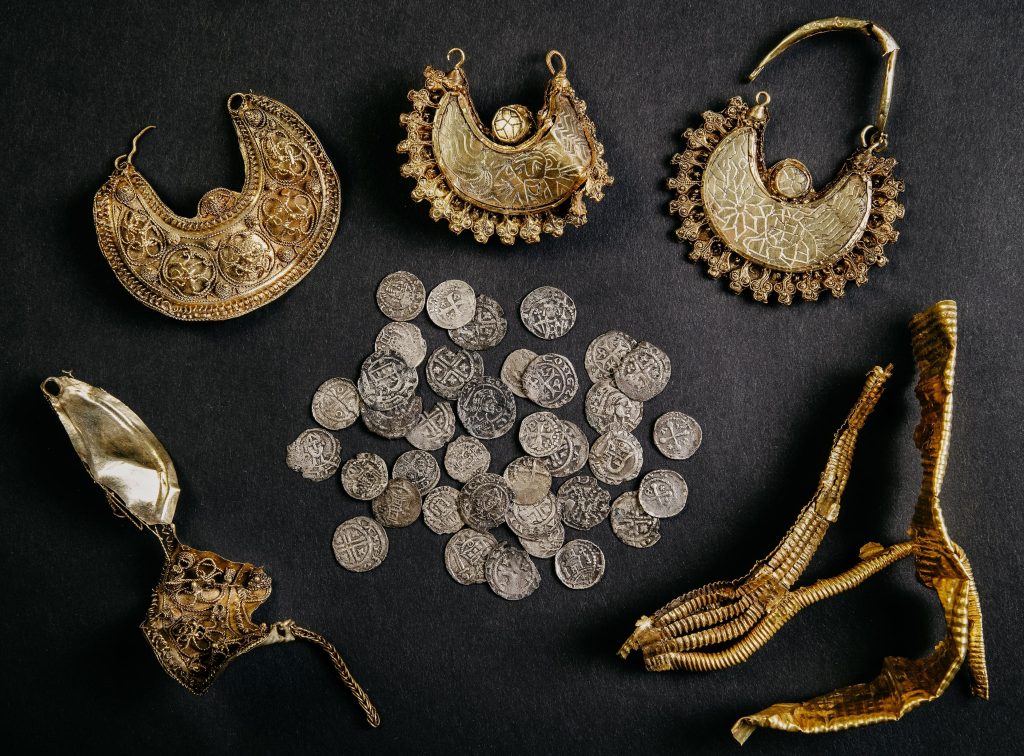 The most important pieces in the hoard are four earrings from the 11th century. They are large, about two inches wide, and crescent-shaped. Two of the four pendants have intricate filigree decoration. The other two are engraved with decorative scenes.
The earring pendants are decorated on one side and have fragile suspension brackets, implying that they were most likely not pierced through the ears but rather worn on a hood or a headband. One of the pendants depicts a man's head surrounded by sunlight rays, which has been interpreted as a portrait of Sol Invictus, the "Unconquered Sun."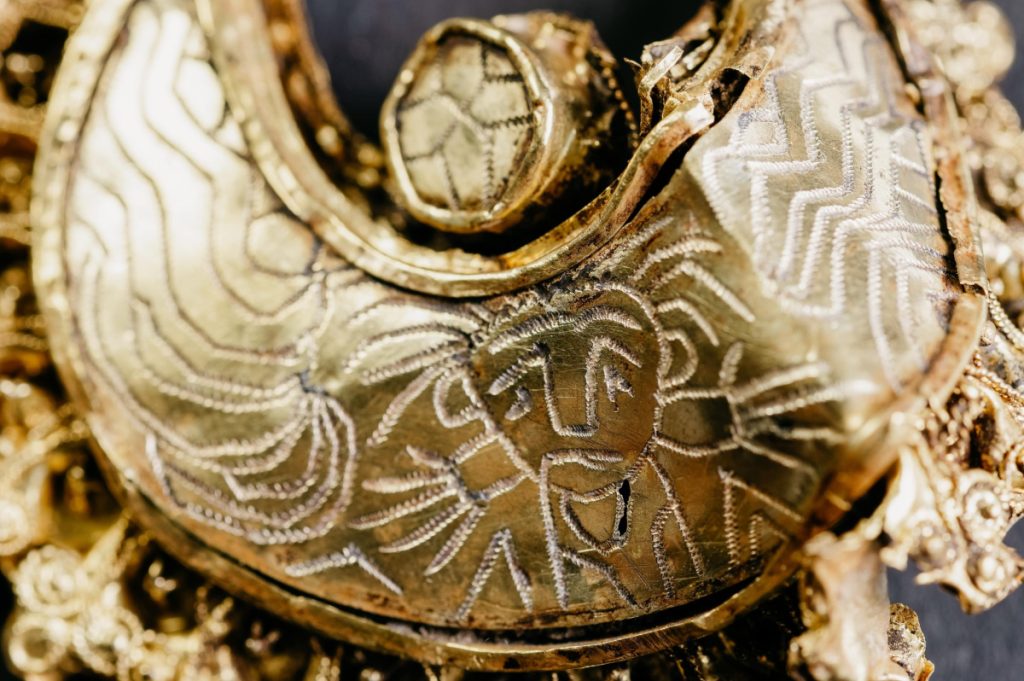 The 39 silver coins are small pennies from Holland, Guelders and Cleves, the Diocese of Utrecht, and the German Empire. Textile traces discovered with the coins suggest they were originally buried in a bag or wrapped in cloth.
The most recent of the coins were struck in 1247-8 by William II of Holland when he was elected King of Germany after Holy Roman Emperor Frederick II was excommunicated by Pope Innocent IV. William died in 1256 in Hoogwoud where the hoard was found.  He and his horse were in the area fighting one of his many wars against the West Frisians when they fell through weak ice into a frozen lake.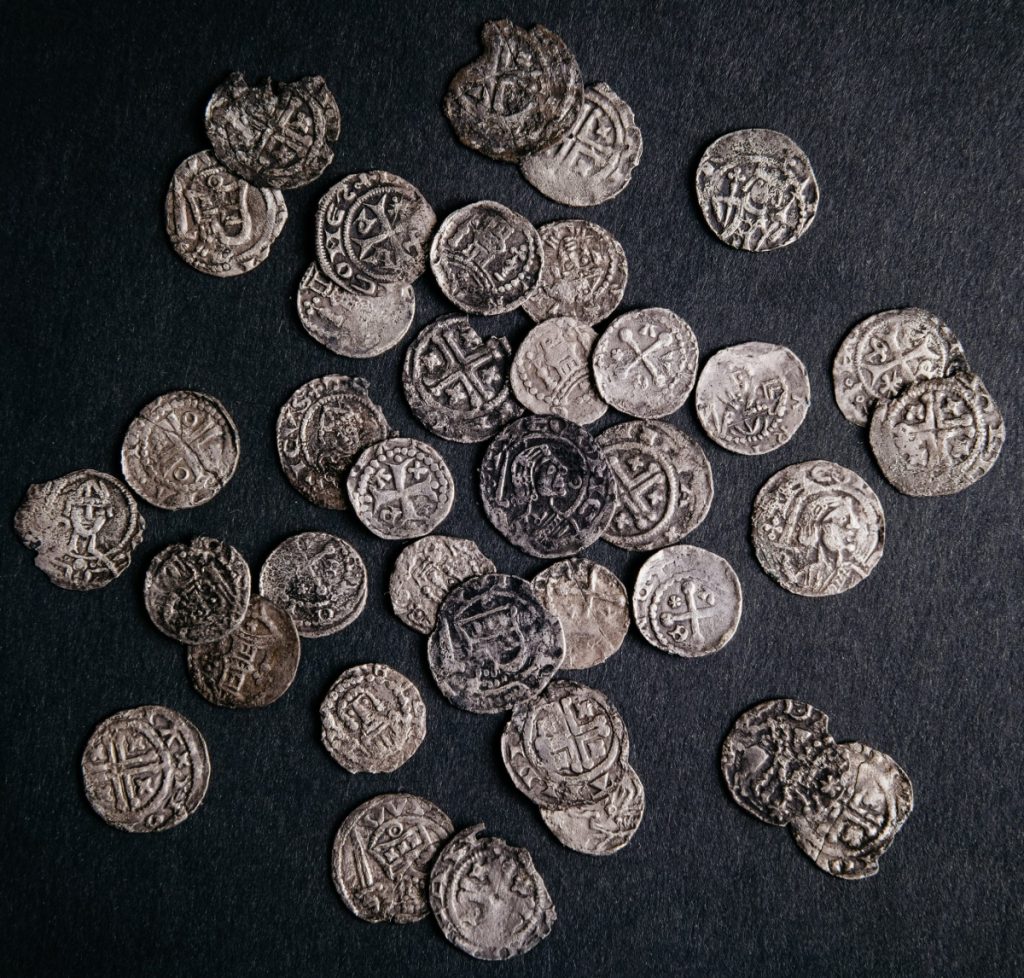 His West Frisian adversaries murdered him before the cold lake could finish what it had begun, and buried him beneath the floorboards of a nearby house.
As a result, the hoard has enormous archaeological significance in the history of Holland as a region and the Netherlands as a whole.
The hoard is on display at the museum until mid-June of this year. It will go back on display in October as part of The Year 1000 exhibition.