Experts from the Polish Academy of Sciences aim to research all mummies in museums as part of the Warsaw Mummy Project.
As part of this project, researchers worked to discover more about the woman thought to be in her 20s.
The first mummified bones of an ancient Egyptian pregnant woman dating back over 2,000 years have been found in Thebes. According to scans of the body, she died at the age of 28 weeks pregnant.
The team found the remains of a fetus, estimated to be 26 to 30 weeks old, inside the woman using a combination of CT scans and X-rays. The first time a pregnant mummy has been discovered.
According to the authors of a paper published in the Journal of Archaeological Science, the body of the woman who died 2,000 years ago was carefully wrapped in fabrics and left with a rich collection of amulets to see her into the afterlife.
The team can't say why the fetus was left inside the woman and not mummified separately, but it could be because it was too young to have a name and needed to travel to the afterlife inside its mother.
Study lead author Dr. Wojciech Ejsmond said this was the 'first discovery of a pregnant embalmed body,' adding: 'There is no other so well preserved ancient body of a pregnant woman.
The body was wrapped in fine fabrics and laid to rest with a set of amulets representing Horus' four sons, which the team believes indicate she was a powerful figure in Thebes.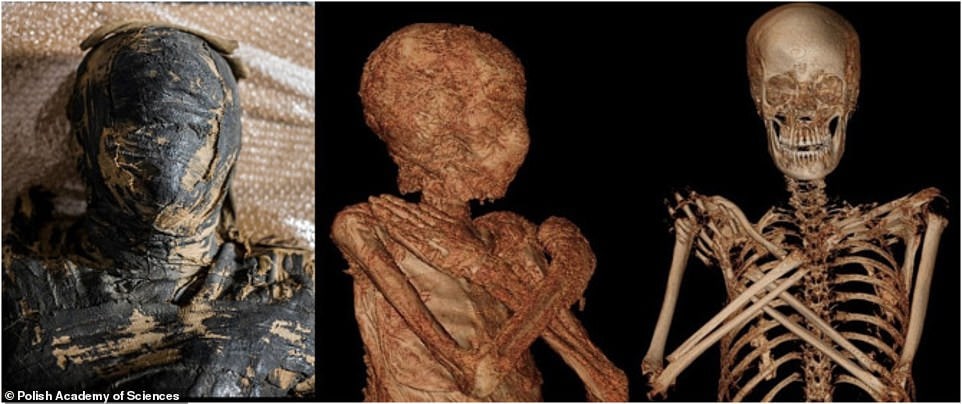 According to the study writers, the mummy was discovered in royal tombs in Thebes, Upper Egypt, and came from the elite of the Theban culture.
The woman was transported to Warsaw, Poland, in 1826, at the time of some of the most famous Egyptian Valley of the Kings findings, and is now on display at the National Museum in Warsaw.
'This mummy provides new possibilities for pregnancy studies in ancient times, which can be compared with and related to current cases,' study authors wrote.
'Furthermore, this specimen sheds a light on an unresearched aspect of ancient Egyptian burial customs and interpretations of pregnancy in the context of ancient Egyptian religion.'
'For Egyptologists, this is a fascinating discovery because we know little about perinatal health and childhood in ancient Egypt,' Dr. Ejsmond added.
'Physicians can study, for example, the intestinal content of the fetus to gather information on the development of the immune system in ancient times.'
The fetus was mummified alongside its mother in the lower part of the lesser pelvis and partly in the lower part of the greater pelvis. It was not, however, removed from its original location.