A team of archaeologists from the Museum of London Archaeology have announced the discovery well-preserved Roman mosaic that may have decorated a room in an important building has been discovered near London Bridge in Southwark.
The team from MOLA (Museum of London Archaeology) were excavating a site located near the Shard in preparation for the construction of the Liberty of Southwark, a new cultural space for offices and homes, where they discovered a mosaic with two highly decorated panels made up of small, coloured tiles set within a red tessellated floor.
The largest area of Roman mosaic found in London for a long time depicts colorful flowers surrounded by bands of an intertwining strand motif known as a guilloche, in addition to several geometric elements and patterns that Dr. David Neal, an expert in Roman mosaics has attributed to the 'Acanthus group'. The smaller panel is simpler in design, with Solomon's knots, two stylized flowers, and geometric motifs in red, white, and black.
The archaeologists are still working on the site, but they already knew that there were Roman buildings in the area following a 1980s excavation on a site next to this development. They probably just didn't expect to find anything as amazing as a nearly intact Roman mosaic.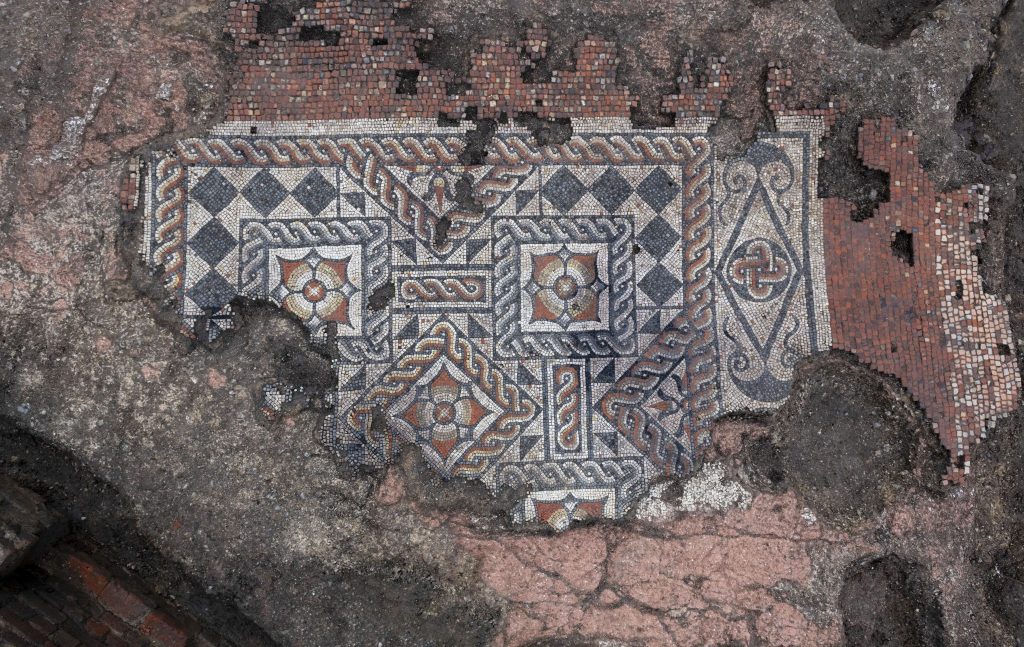 MOLA Site Supervisor, Antonietta Lerz, says: "This is a once-in-a-lifetime find in London. It has been a privilege to work on such a large site where the Roman archaeology is largely undisturbed by later activity-when the first flashes of colour started to emerge through the soil everyone on site was very excited!"
Archaeologists suggest that the mosaic might have been set in the dining room of a Roman mansio – an upmarket 'motel' offering accommodation, stabling, and dining facilities for state couriers and officials travelling to and from London. The complete footprint of the building is still being uncovered, but current findings suggest this was a very large complex, with multiple rooms and corridors surrounding a central courtyard.
While the largest mosaic panel can be dated to the late 2nd to early 3rd century AD, the room was clearly in use for a longer period of time. Astonishingly, traces of an earlier mosaic underneath the one currently visible have been identified. This shows the room was refurbished over the years, perhaps to make way for the latest trends.
Other finds include a hypocaust, the famous Roman underfloor heating, hairpins, needles, bottles and broaches.