A large settlement dating back more than 4,000 years has been discovered in Oman.
Archaeological excavations in the Wilayat of Rustaq, South Al Batinah Governorate, have revealed a large settlement, dating back to more than four thousand years ago, Oman News Agency (ONA) reported on Sunday.
The discovery was made during an archaeological excavation in a site known by the locals as Al-Tekha and located on the outskirts of the Al-Hajar Mountains on the western bank of Wadi Al-Ghashab, near the confluence of Wadi Al-Sahtan with Wadi Al-Ghashab.
The excavation was completed by the joint archaeological mission of the Department of Archeology at Sultan Qaboos University represented by Dr. Khaled Douglas and the Italian University of Pisa represented by Dr. Sara Pizzimenti.
The archaeological investigation revealed that the site was occupied for the first time during the Early Bronze Age in the third millennium BC, indicating one of the communities of the Umm an-Nar civilization, which saw significant and widespread prosperity in the Omani Peninsula.
The site spreads over a vast area of land of more than 70 hectares, which makes it one of the largest settlements of Umm an-Nar culture in the Omani Peninsula.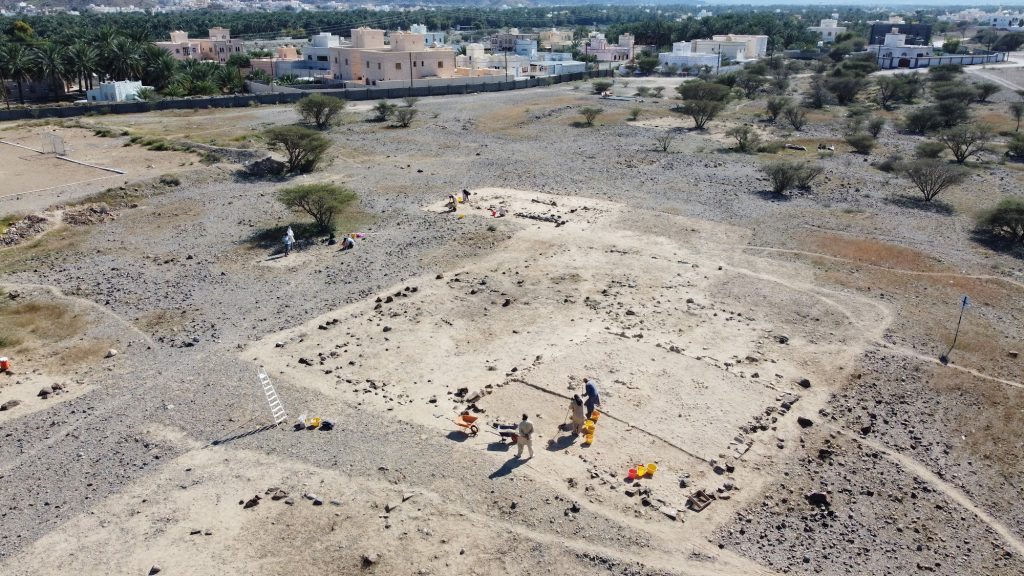 ONA wrote, a large number of domestic buildings of various sizes were found in its central area, in addition to several circular tombs that spread on the western side of the settlement, whose outer walls were elaborately built of white well-cut limestones.
It was also revealed that there are some huge circular towers in different areas of the settlement, some of which are more than forty meters in diameter, built of mud bricks walls based on huge stone foundations.
The presence of public buildings and huge towers indicates the importance of the cultural role played by the inhabitants of the settlement during the Early Bronze Age, which may have represented a major and important cultural center in the north of the Sultanate in general Al Batinah Plain region in particular.
The ceramic sherds and archaeological findings discovered by the expedition also suggest that the people of the settlement had strong trading contacts with neighboring civilizations such as the Indus Valley's Harappa civilization and the Mesopotamian culture.
The ruins of copper furnaces discovered within the settlements suggest that the people's subsistence economy was primarily reliant on copper production, smelting, and commerce. Copper mines from which copper was extracted have not yet been found, but the archaeological mission is seeking to search for it in the coming seasons.
The archaeological mission began its excavations at the site in early January 2022, as the first season of this mission at the site, with a plan to follow up the research and excavation work for many years in the future.
Cover Photo: The site spreads over a vast area of land of more than 70 hectares, which makes it one of the largest settlements of Umm an-Nar culture in the Omani Peninsula. Photo: ONA