More than 20 Terracotta Warriors were unearthed from the Terracotta Army pit in Xi'an, northwest China's Shaanxi province, according to the Chinese news agency CGTN.
The painted pottery figures unearthed this time are well preserved, according to Emperor Qinshihuang's Mausoleum Site Museum. At present, archaeologists have transported the pottery figures to the protection and restoration room.
Among those newly unearthed terracotta warriors are a general figure and a middle-ranking army officer figure. Through combing, the terracotta figures of medium and senior military officials were unearthed since the discovery of the Qin Terracotta Tomb in Xi'an.
Archaeologists found that the military array arrangement of the No. 1 pit might be symmetrical from north to south and from east to west. This discovery is of great significance to understand and study the military array arrangement of the whole No. 1 pit.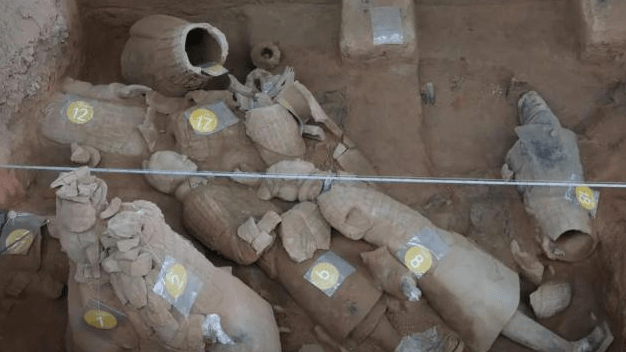 The No. 1 pit is rectangular in shape, 230 meters long from east to west, 62 meters wide from north to south, and 5 meters deep, with a total area of 14,260 square meters. According to the estimated density of the excavation, more than 6,000 pottery figures and horses can be unearthed.
The Terracotta Army is a collection of terracotta sculptures depicting the armies of Qinshihuang (259-210 B.C.), the first Emperor of China, to protect him in the afterlife. Located near Qinshihuang's mausoleum in Shaanxi's Lintong County, the site was first discovered in 1974 and is considered one of the greatest discoveries in the 20th century.