Archaeologists have unearthed a Roman phallus wind chime known as a tintinnabulum, during excavations at the ancient city of Viminacium in the Kostolac region of eastern Serbia.
Viminacium Archaeological Park is situated about 100km (70 miles) east of Belgrade and was once one of the wealthy Illyrian cities of antiquity.
Viminacium was the capital of the Roman province of Moesia and an important military camp, founded around the 1st century. The city thrived throughout the centuries, eventually gaining the status of a colony during the reign of Emperor Gordian III. It's estimated that the city was home to 45,000 inhabitants. Two Roman legions were stationed here, Legion VII and Legion IV.
The first excavations took place at the site in 1882. At Viminacium, the remains of over 14,000 tombs were discovered, complete with antique frescoes inside. Along with pottery shards and coins, ruins of an amphitheater, buildings, a Roman thermae, an aqueduct, a mausoleum, and parts of a sewer system were discovered. They all provide a vision of what life was like this once vibrant Roman city.
Tintinnabulum, which was hung near the doorways of houses and shops, was believed to serve as magical protection for the premises. This one was discovered on the porch of a large home on a main street in Viminacium.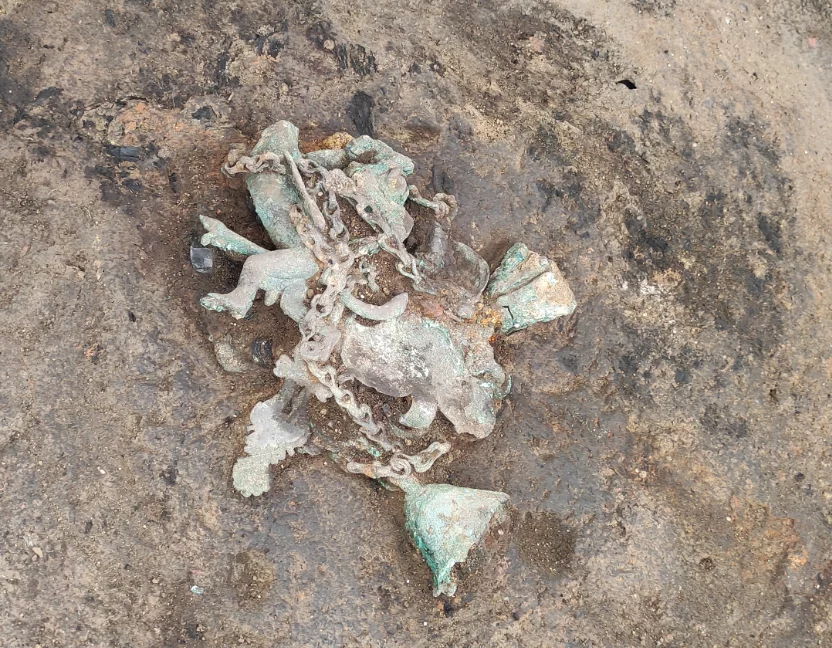 "The building was destroyed in a fire, during which the porch collapsed and fell to the ground," Ilija Danković, an archaeologist at the Institute of Archaeology in Belgrade, told the Serbian-language website Sve o Arheologiji.
The object is cast from bronze and depicts a magical phallus at the center with two legs, wings, and a tail. This central figure was adorned with four bells, noted the archaeologists. However, the original appearance of the Viminacium wind chime will be revealed following its conservation.
The ancient equivalent of modern wind catchers is wind chimes, but their significance and function in the Roman world were far more complex. They are hung in front of the doors of houses or rooms so that when they make a sound in the wind, and also with their unusual appearance, they dispel evil forces and evil eyes.
Phallus-shaped objects are found on a wide range of Roman objects, from amulets to frescoes to mosaics and lamps, and even as far as on Hadrian's wall at the other extreme of the empire. For the Romans, such objects did not have an erotic character. This part of the human body was considered an effective weapon in the fight against the evil eye, and was also a bringer of good luck.
Cover Photo: The moment of the discovery of the tintinabulum in Viminacium. Photo: Ilija Danković, Archaeological Institute