People developed numbers tens of thousands of years ago, according to archeological findings. Scholars are now investigating the first comprehensive hypotheses behind this life-changing invention.
A Neanderthal began working with a bit of hyena femur and a stone tool some 60,000 years ago in what is now western France. The bone bore nine notches that were stunningly identical and almost parallel after the work was completed as if they were supposed to symbolize something.
An archaeologist from the University of Bordeaux in France, Francesco d'Errico, offers a theory concerning the markings. During his career, he has examined numerous antique carved objects, and he believes the hyena bone, discovered in the 1970s near Angoulême at Les Pradelles, stands out as exceptional. Although ancient carved artifacts are often interpreted as artworks, the Les Pradelles bone seems to have been more functional, says D'Errico.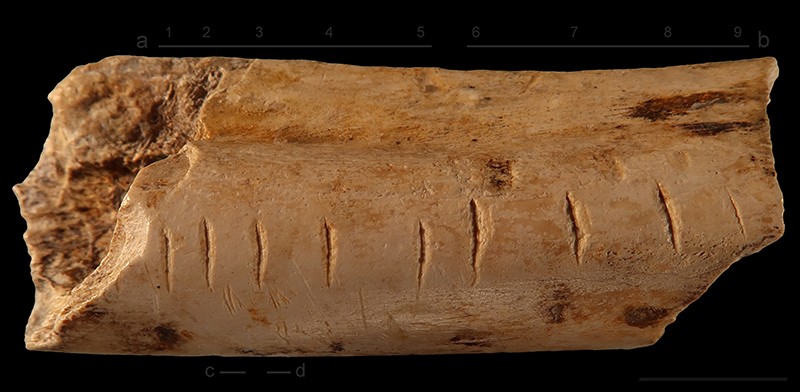 He claims that it might be used to encrypt numerical data. And, if that's the case, anatomically modern people may not have been the only ones to devise a system of numerical notation: Neanderthals might have begun to do so, too.
When D'Errico published his views in 2018, he was delving into the uncharted ground for scientists: the ancient foundations of numbers. The origin of numbers is now garnering increased attention as scholars from all areas approach the topic from various perspectives.

Cognitive scientists, anthropologists, and psychologists are studying modern civilizations to better understand the variations between current number systems, which are defined as the symbols that a civilization employs to count and manipulate numbers. Their goal is that hints hidden in current systems may provide information about their origins.
Meanwhile, archaeologists have been hunting for evidence of early numerical notations, and evolutionary scientists with an interest in language are investigating the deep roots of number words. These investigations prompted scholars to formulate some of the earliest precise explanations regarding the prehistoric evolution of number systems.
Furthermore, an increase in funding will encourage greater research in this field. This year, an international research team will begin testing several ideas with a €10 million (US$11.9 million) funding from the European Research Council as part of a larger effort to explore when, why, and how number systems arose and spread over the world. The project, called the Evolution of Cognitive Tools for Quantification (QUANTA), might even provide insights into whether number systems are unique to anatomically modern humans, or were conceivably present in nascent form in Neanderthals.
doi: https://doi.org/10.1038/d41586-021-01429-6
Source: Nature