In the ruined city of Teotihuacan, Mexico, at a depth of 18 meters, inside the tunnel under the pyramid of Quetzalcóatl, four well-preserved bouquets of flowers, corresponding to the early stages of Teotihuacan, dated between 0 and 200, were found.
The find, which is part of the Underground Road project at the Pyramid of the 'Plumed Serpent' or Quetzalcóatl, is considered exceptional by archaeologists, as it is the first time such well-preserved botanical material has been found at Teotihuacan.
Plumed Serpent was a major god in ancient Mesoamerica, which covered central Mexico, Belize, Guatemala, El Salvador, Honduras, Nicaragua, and northern Costa Rica. This deity was said to have given maize to humankind and to be responsible for humanity's creation, which might explain why flowers were discovered under the god's temple.
Sergio Gómez Chávez, an archaeologist at Mexico's National Institute of Anthropology and History and director of the Tlalocan Project, said the stems are in good condition and still tied with the original cotton-made cords.
'In total there are four bouquets of flowers in very good condition, they are still tied with ropes, probably cotton, This is a very important find because it speaks of the rituals that were carried out in this place,' Gómez told Mexican news outlet La Jornada.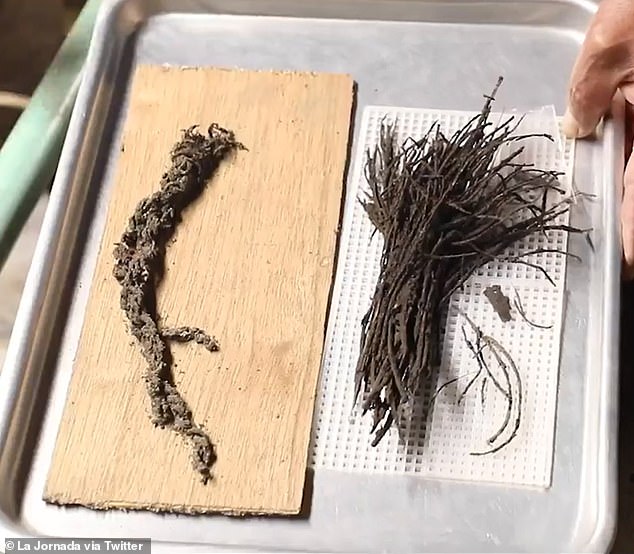 He reported that this year the final phase of the exploration of the Pyramid of the Plumed Serpent tunnel was accomplished, resulting in the location of these flower bouquets. Gómez thinks it's too early to tell what sort they are, but he's hopeful that the riddle will be solved soon.
'Although we do not know the exact date of when they were deposited, because we just took them out this week, they must be very old and correspond to the first phases of Teotihuacan, between 1,800 and 2,000 years ago,' Gómez said.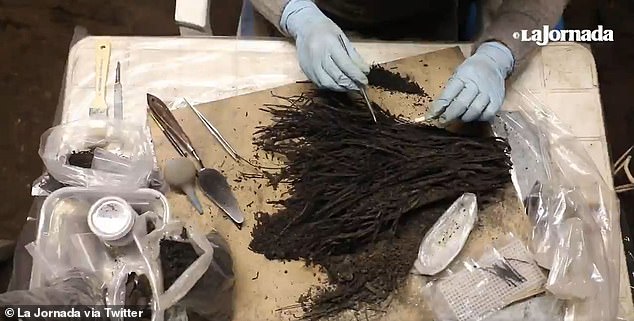 Sergio Gómez stated that after all the discoveries are completed, the found materials will enter the stage of reflection, analysis, and study, which will give them more information.
In the project, after 12 years of research in the tunnel, more than 100,000 pieces and ceramic objects, archaeological objects such as obsidian, shells, and snails, organic remains such as rubber, hair, and skeletal remains were found.
At the end of the tunnel, along with the three rooms, about half a kilo of cocoa beans were found in good condition. Sergio Gomez said that it is remarkable to find cocoa, as it is known that cocoa is not native to the region, but was imported from the Maya region along with rubber and amber.
The tunnel was discovered in 2003 when a hole caused by the rains formed right in front of the Pyramid of the Feathered Serpent. At a depth of 12 meters, a small car with a robot entry was used for an exploration into the tunnel, where the first images of the interior were taken with a scanner.
The ancient city was built 2,500 years ago and was once one of the world's largest towns, with over 100,000 inhabitants. Teotihuacan literally translates to "the place where men become gods."