Researchers from the Institute of Art at the Polish Academy of Sciences (IS PAN) have discovered substantial fragments of a 17th-century iconostasis in the attic of St. John the Theologian Church in Nowoberezowo, Podlaskie, Poland.
In researchers opinion, it is the oldest such work of art in the region; a unique one, as evidenced by its originality and state of preservation.
Dated to the 17th century, the discovery comprises 17 fragments, each varying in their state of preservation. Presented during a recent exhibition in Białystok, this historic find sheds light on a pivotal period in the region's cultural heritage.
These fragments offer invaluable insights into an intricate and complex structure featuring multiple icons. Some of the icons are in remarkable condition, while others have suffered severe damage. However, even in its fragmented state, this iconostasis allows for a near-complete reconstruction, revealing a structure spanning eight meters in width.
The discovery was made during a project entitled "Consolidation of Heritage. Inventory and Documentation of Monuments on the western border of the Eastern Lands of the former Polish-Lithuanian Commonwealth". The discovery was made by Dr. Zbigniew Michalczyk, Piotr Jamski, and Jan Nowicki from the Catalogue of Art Monuments in Poland team.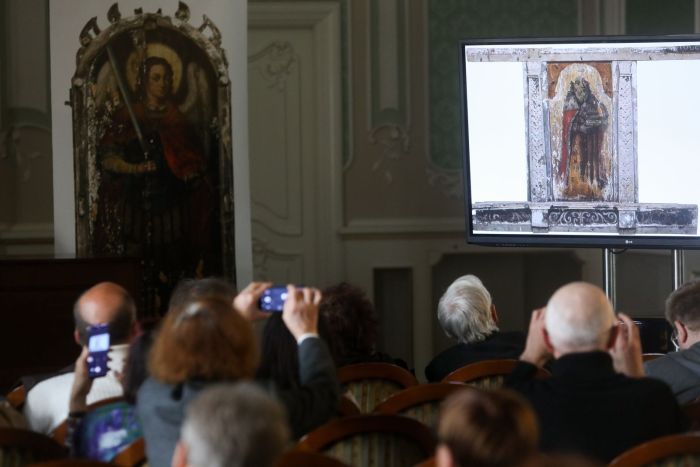 The discovery has cultural, historical, and regional significance, and the researchers emphasize this while expressing confidence in its uniqueness. Unlike well-known works of art, this iconostasis comes to us untouched by conservation efforts, making it a true rarity.
"We have absolutely no doubt that this is a unique discovery. From the very beginning, when we realized what we were dealing with, we were convinced that it was extremely important," Jan Nowicki told Polish news agency PAP.
This 17th-century iconostasis is notable for being the region's oldest of its kind. Most similar objects from the 17th and 18th centuries within the Russian Empire were either destroyed in the 19th century or succumbed to time's passage. Researchers find few analogies to this remarkable find.
Dr. Zbigniew Michalczyk mentioned that small relics of the 17th-century modern iconostasis in Podlaskie had been preserved, for example, in the churches in Bielsk Podlaski and Augustów. An analogy – as Michalczyk added – may be the 17th-century icons from the monastery in Supraśl, found a few years ago by researchers in the cemetery chapel in Topilec.
Because of the significance of this discovery, preliminary research findings have been published in the most recent issue of the Art History Bulletin.
Cover Photo: PAP/Artur Reszko