Archaeologists have unearthed a rare enkolpion -a medallion with an icon in the center worn around the neck by Eastern Orthodox and Eastern Catholic bishops- in Woźniki, located in the Lubliniec district of Poland's Silesian Voivodeship.
Archaeologists, including researchers from the University of Łódz, have unearthed a remarkable enkolpion, a cross-shaped reliquary, during their excavations. These relics were discovered in what is believed to be a knightly residence dating back to the 14th and 15th centuries.
The 2023 season marked the first comprehensive exploration of the site, led by Dr. Piotr Strzyż, a professor at the University of Łódz. The 2023 season was the first fully systematic examination of the relics of the mound – the knight's seat.
Archaeologists found, among others: clay vessels and iron objects constituting the equipment of the manor – they included door fittings, a padlock, a key, nails, hooks, staples, and a carder. The military function of the object was confirmed by such monuments as three iron stirrups, part of a horseshoe, several crossbow bolt heads, and fragments of a cord. Several silver coins and elements of a belt suit were also discovered.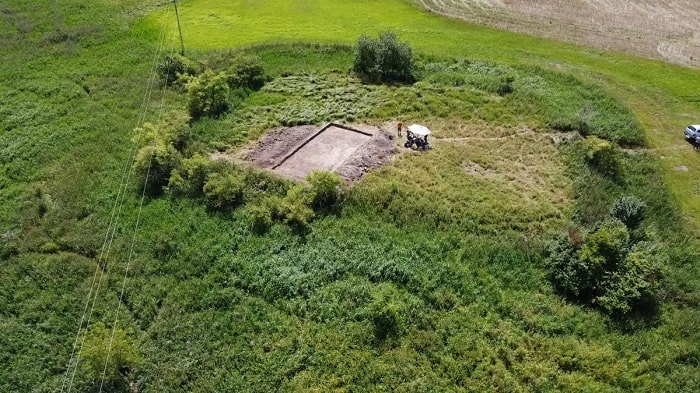 The exceptional find in Woźniki is an enkolpion crafted from a copper alloy. These reliquaries, worn by Christians on their chests, typically housed relics or quotes from the Holy Scriptures. Due to its delicate state, the enkolpion has been entrusted for restoration in Wrocław.
Excavations at Woźniki have exposed the remains of the lower level of a wooden building with a domed furnace, which likely heated the residence, initially a princely court at the end of the 13th century and later a private knight's dwelling.
The stronghold in Woźniki, whose origins can be tentatively dated to the end of the 13th century, most likely burned down around the first half of the 15th century.
The first serious research in this place was carried out in 1957 by employees of the Archeology Department of the Upper Silesian Museum in Bytom. "Unfortunately, despite the confirmation of the historic character of the stronghold as a result of research, the site was still destroyed by agricultural activity" – point out the authors of the article.
Cover Photo: Institute of Archeology of the University of Lodz