A 3200-year-old trepanned skull was discovered in eastern Turkey's Van province.
In the prehistoric era, Anatolia served as a transitional area for the first human settlement from the Neolithic period. Prehistoric people have left the tips of beliefs, rituals, and ways of their lives in this land.
Archeology, anthropology, and with the cooperation of medical science is trying to solve these tips. Preparation is one of the findings of this unique example that can be accepted as the beginning of the history of neurosurgery. Although first trepanation (Brain surgery) has been performed in a skull which discovered in Israel in Paleolithic period, the oldest trepanned skull was belonging to Neolithic human. However, many trepanations have been performed after deat.
The earliest trepanation in living human was discovered in Aşıklı Höyük. After Aşıklı Höyük, another extraordinary trepanation find in Anatolia was discovered during the ongoing salvage excavations in Van.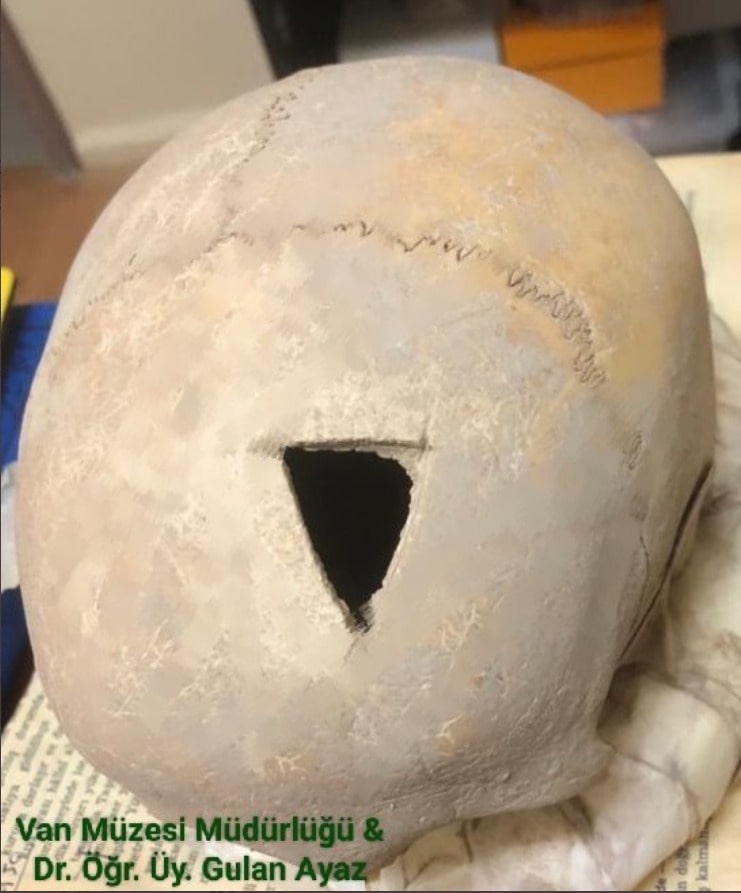 This special find was found during the salvage excavation in the Early Iron Age necropolis in the İçimli hamlet of Uzuntekne Village in the Çatak district of Van.
The exciting find was shared on the social media account of the Excavations and Research Department of the General Directorate of Cultural Heritage and Museums of the Ministry of Culture and Tourism.
The trepanation find, which was discovered during the rescue excavations of the Early Iron Age necropolis, which started in 2016 under the presidency of the Van Museum and carried out under the scientific consultancy of Dr. Gulan Ayaz from the Department of Archeology at Van Yüzüncü Yıl University for two years, by the Excavations and Research Department, "Four seasons in our excavations. An extraordinary example of trepanation dating back 3200 years from our rescue excavations carried out by our YYU faculty members under the presidency of the Van Museum…" announced as.
Trepanation has been for thousands of years, making it one of the oldest medical procedures known to the human race.
Trepanation was thought to be a remedy for a variety of conditions, including head injuries in ancient times. It may also have been used to treat pain. Some scientists also think that the technique was used in rituals to expel spirits from the body.
We will continue to convey the developing information about the second extraordinary 3200-year-old trepanation find after Aşıklı Höyük.