In the world-famous historical city of Iznik, which was the capital of four civilizations, a farmer found coins and historical artifacts in his peach orchard. The artifacts are believed to belong to the 1,500-year-old Byzantine period.
Özkan Yılmaz, a farmer, artifacts found in the orchard that resemble a tablet with a cross and figures of children on them.
"Iznik has been the capital city of four civilizations and such historical pieces are proof that our land is full of historical treasures. I was digging for peaches here and came across a shining object with some small coins next to it. I was surprisingly happy and excited when I realized what these objects are," said Yılmaz.
Yilmaz said that he will deliver the historical artifacts to the museum as they enhance national history, and believes it is a moral duty to preserve treasures.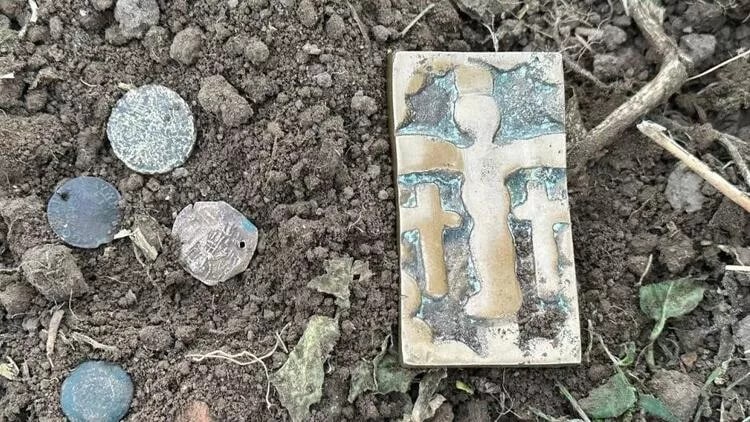 İznik is a city on the eastern shore of the same-named lake and is 86 kilometers (km) northeast of Bursa. Iznik was built between olive groves, vineyards, and orchards and is encircled by 2,000-year-old walls that are about 5 km long. The Cicekli, Karadin, and Cakırca mounds, which are close to the city, contain the remains of a civilization that existed 2,500 BC. The established settlements was named as 'Helikore' before the migration of Thracian tribes in the 7th century BC Khryseapolis (Gold City) name is read on the printed coins.
The city is renovated by Macedonian emperor Alexander's general Antigonus in BC 316 years and the city is referred as Antigoneia. After the death of Alexander, the battle between Antigonus and the generals Lysimakhos is resulted with Lysimakhos'victory and he named the city after his wife Nicaea – the daughter of Antipatros.
An important city in early Christian history, İznik (known in ancient times as Nicaea) was the site of the First and Second Councils of Nicaea. These councils established key tenets of Christianity such as the Nicene Creed and sainted how Christians should interact with icons.