The important cultural areas of Pulur Sakyol and Yeniköy mounds, which bear the traces of Kura-Aras Culture, represented by kurgans in the area between the Kura River and Aras River, came to light once the waters of the Keban Dam Lake receded.
The Kura and Aras rivers are the largest rivers of the Caucasus rising from Turkey flowing through Georgia, Armenia, Azerbaijan, and Iran, draining to the Caspian Sea. It is a culture named by the same name as it developed around these rivers.
The spreading area of Karaz Culture/ Kura-Aras Culture extends to Northern Black Sea Mountains – Transcaucasia line in the north, Urmiye Lake in Iran in the east, Divriği – Kangal, Malatya – Elazığ line in the west, and Kahramanmaraş – Amik Plain Palestine line in the south.
With the filling of the dam, many settlements in the region and the mounds of Pulur Sakyol and Yeniköy in Çemişgezek were submerged (1965).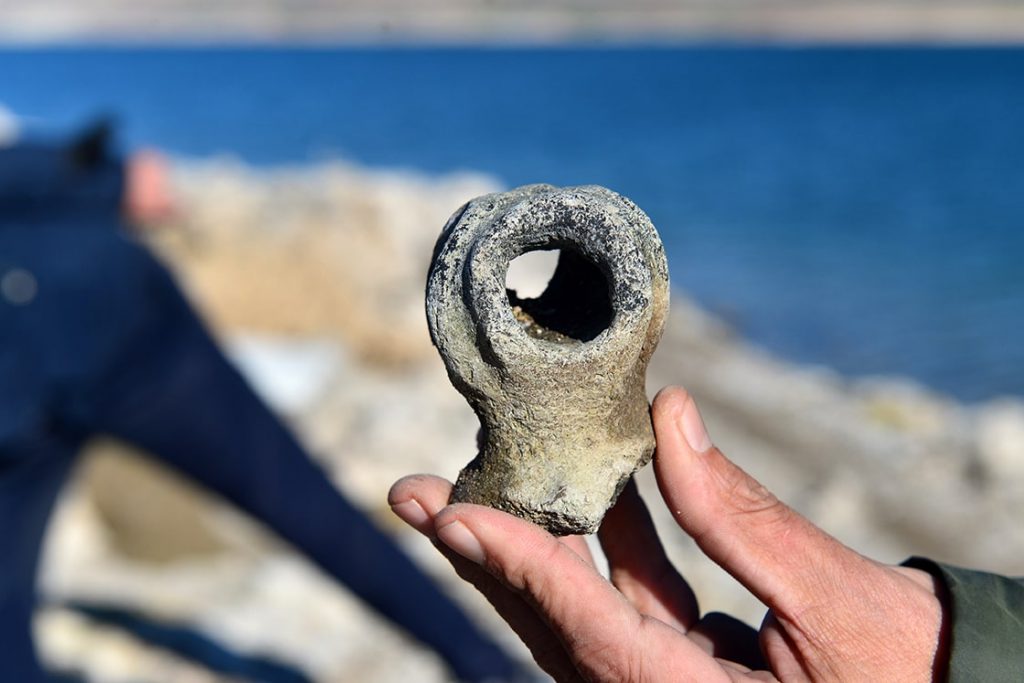 These two mounds, which shed light on thousands of years of history, have come to light in the region where the dam's water was withdrawn due to the drought and excessive evaporation experienced throughout the country this year.
Atatürk University Archeology Department Research Assistant Dr. Umut Parlıtı, archaeologists Özgür Şahin and Ali Haydar İmre conducted a survey in the area after the receding waters.
Regarding the results of the survey, Atatürk University Archeology Department Research Assistant Dr. Umut Parlıtı told AA correspondent:
Stating that they obtained important archaeological findings in terms of Kura-Aras Culture as a result of the examinations carried out in the mounds, Parlıtı said, "The most important of these was the intra-settlement cemetery located in the northwest of Pulur Sakyol. We know that the Kura-Aras culture is an important culture that started from the Caucasus between 3200 and 2200 BC and spread to our geography from here to Syria. It is also very important for Anatolia. These inner-settlement graves are important in terms of being elite tombs. The closest similar example is found in Arslantepe."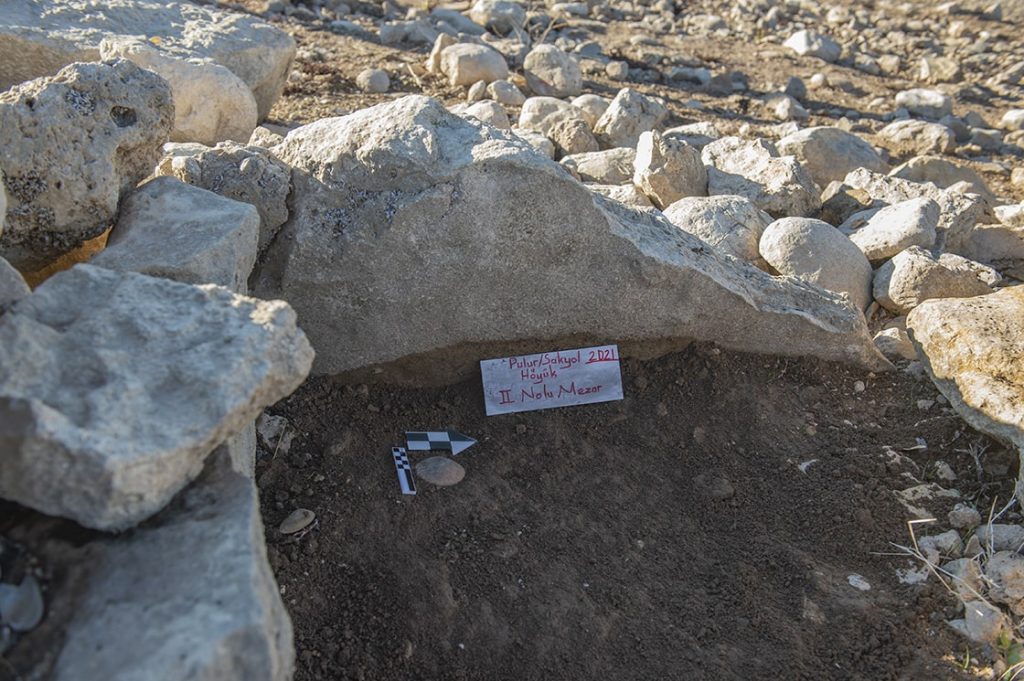 Parlıtı stated that the tombs in the mounds provide extremely important archaeological data and that excavations should be carried out in order to bring these tombs to the world of archeology as soon as possible.
"There are at least three chests tombs here right now"
Expressing that the area was forgotten after the Keban Dam rescue excavations in 1970, Parlıtı said:
"The fact that the Pulur Sakyol and Yeniköy mounds form one of the most extreme points in the northern spread of the Kura-Aras Culture is very important and is one of the centers that play a key role in this respect. It was excavated, but unfortunately, one-third of it was submerged without being excavated. The tombs, which are now revealed by the tides of the waters, are very important in this respect. In other words, we knew that there was a grave in the settlement, but having a cemetery in the settlement is a different situation. There are at least three chests tombs and one circumscribed tomb here at the moment."