As the dams recede, the remains of the flooded settlements come to light. This time Kayseri witnessed these images that emerged when the water of the dams decreased in the dry years. When the waters of Kayseri's Yamula Dam decreased, the images that emerged stunned the villagers.
According to the news of the İHA; Cemeteries, skeletons and houses have emerged in the old Taşhan District, which was flooded by the Yamula Dam in Kayseri.
Taşhan District of Kocasinan district was moved to the area 6 kilometers away within the scope of Yamula Dam project in 2003. Some citizens, whose homes were in higher elevations, continued to live in the neighborhood.
The part of the neighborhood was flooded with the activation of the dam. Due to the low amount of precipitation lately, waters have receded in Yamula Dam. With the fall of the water level, the cemeteries and houses of the old Taşhan District emerged. While the skulls and bones of people were also unearthed in the cemetery, they were collected by the municipality officials and buried in the cemetery in the new neighborhood.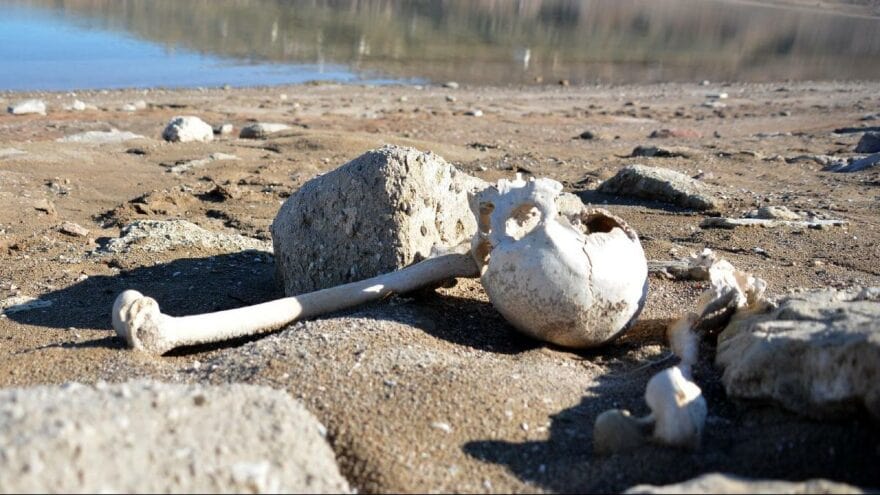 Abdullah Özdemir, who lives in the neighborhood, said, "The old Taşhan District was flooded in 2003 due to the Yamula Dam. Later, our village was the expropriation. Our neighborhood has moved to another area, about 6 kilometers away.Most of the citizens living here moved there. İf those with no place, about 15 people reside here. He said that most of the houses here are underwater.
Noting graves were unearth because of withdrawal of waters, Özdemir said:
The low amount of rain-affected this place very much. Almost half of our flooded neighborhood has emerged. When the waters receded, the tombs and houses here became visible. When the waters receded, skeletons in the cemetery were revealed. The officials who came with my notice took the bones to the cemetery of the new neighborhood. Now it continues to go out as the water is drawn. As a citizen, I suffer remorse here. Tomorrow I will be like them. I'm telling you out of conscience. They come and take it away. It's here's a very old cemetery. (İHA)