Radomír Tichý, an archeology professor at the University of Hradec Králové who is also the director of the Všestary Archeopark, and his team of experimental archaeologists using a replica prehistoric vessel, successfully completed its voyage across the Aegean Sea.
Hradec archeologists organized several maritime expeditions in wooden boats, starting in 1995. The third expedition, completed this summer, is called Monoxylon IV.
Their name comes from the Greek word "monoxylon," (short version monoxyl), which means a simple vessel chiseled out from a single tree trunk. Monoxyles have been shown to be one of the oldest documented types of boats. Their use has been confirmed by archaeological findings since the Stone Age, and some natural ethnic groups still use them today.
The Monoxylon expeditions are maritime expeditions of Radomír Tichý and his team, which closely combine science in the form of experimental archaeology and the adventure of maritime navigation
Expedition organizer Radomír Tichý said the team aimed to shed light on the nature of agricultural colonization in the Mediterranean 9,000 years ago.
The team of 20 paddlers and a helmsman braved the open waters to complete a 500-kilometer route divided into 17 sections. Starting from the Greek island of Samos, located off the coast of Turkey, they navigated through various islands before reaching the Peloponnese peninsula in Greece. The crew made overnight stays on some of the islands.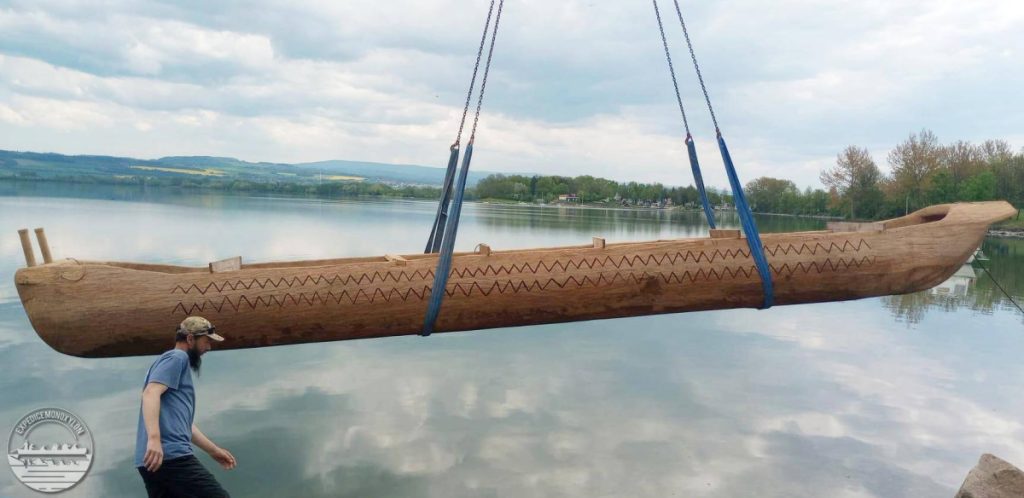 The boat, an accurate replica of an 8,000-year-old Neolithic boat discovered in Lake Bracciano near Rome in 1994, weighs nearly three tons, is 11.5 meters in length, and is up to 1.2 meters in width.
The vessel was made last year from a single trunk of an uprooted oak tree that grew for about 300 years in a local forest in East Bohemia and is larger than the wooden boats used in earlier expeditions.
The expedition presented numerous challenges to its participants, including dealing with extreme heat. The most difficult leg of the journey was an 11-hour upwind crossing to the island of Amorgos, battling sweltering temperatures and scarce winds between Melos and the Peloponnese.
Over 100 hours of paddling, the team conquered the entire 500-kilometer route at an average speed of 5 kilometers per hour, showcasing their determination and endurance.
According to its organizers, the aim of the expeditions "is a practical verification of the abilities of simple wooden vessels – monoxyls, in the spreading of early agricultural populations through the Mediterranean."