Nahıl, a word of Arabic origin, means date palm. This word was later used by the people to mean the wish tree.
Nahıl tree tradition, whose roots go back to the Anatolian Seljuk State, became more widespread in the Ottoman Empire. This tradition, which is similar to the celebration of Christmas, is one of the most important parts of the sultan's festivities.
The tree has great importance in Turkish culture. With the belief of Shamanism, tree is entered daily life and accepted as a tool of communication.
All the meanings that the tree of life encompasses are reflected on traditions. The tree of life is used as a motive in architecture and handicrafts of the Anatolian realm in Turkish culture before and after Islam.
With the use of three-dimensional nahı in various sizes, celebrations, and weddings held in the Ottoman Empire exhibit a new interpretation of the tree.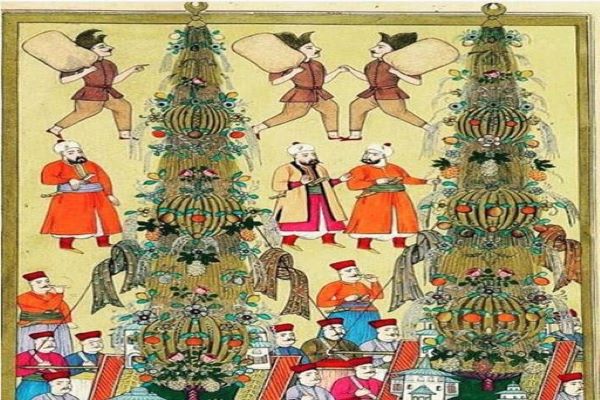 Nahıl trees, the tallest of which is 10 meters and the shortest 2-3 meters high, were frequently used in festivities during the Ottoman period.
There was a candle on the top of these trees, and each floor had a separate ornament. In later years, a crescent was placed on the top of especially large Nahıl trees instead of candles.
Nahıl is a wedding and festival decoration that resembles a palm tree with its conic shape becoming thinner as it ascends and is decorated with ornaments of various shapes.
It was believed that for those who write their wishes on a piece of paper and hang it on the Nahıl tree, all their wishes will come true. Various balls and bows were hung on these trees, which were also used in circumcision weddings and various ceremonies of the sultans.
At weddings, a few large Nahıl trees and dozens of small Nahıl trees were made. At weddings, Nahıl was brought from the bride's house to the groom's house.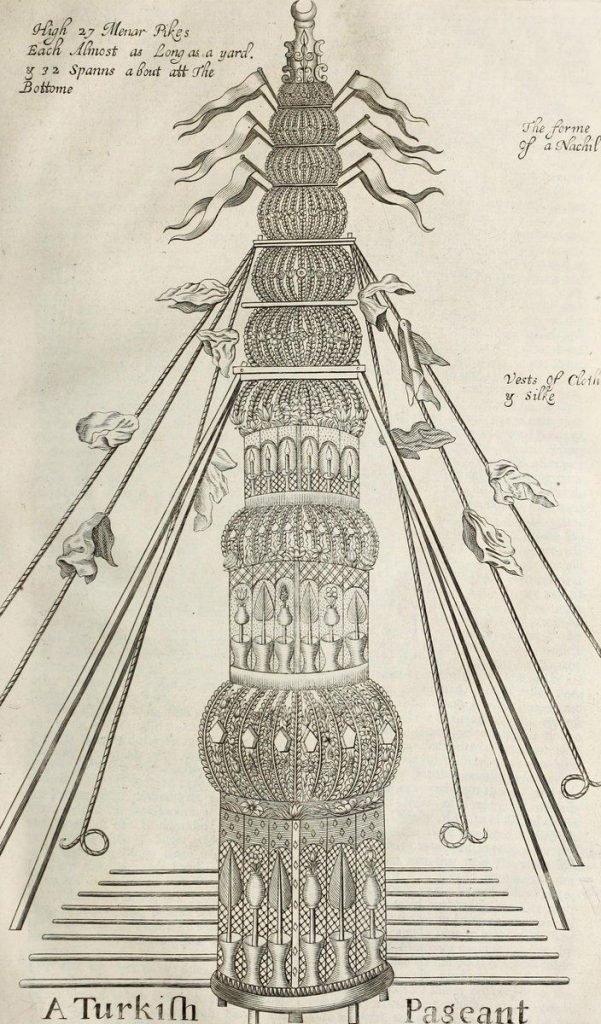 The meaning ascribed to nahıl coincides with the meaning ascribed to the tree. Nahıls which draw all the attention to themselves are important indicators in terms of sharing power and beauty with the society.
Historians mention the existence and technical features of nahıls in small and large scales. Nahıls on which the power of sovereignty is also reflected have begun to be forgotten with the collapse of Ottoman Empire.
The traces of nahıl are found, though rarely, in Turkey and it is used in plain forms as a sign of wedding ceremonies. As a reflection of an almost forgotten cultural tradition, nahıl makers (Nahılbents) of today strive to keep alive this tradition.
Today, the Nahıl tree tradition, like many customs and traditions, is among the forgotten traditions. Today, this tradition is tried to be continued in Nevşehir/Ürgüp under the name of "eulogizing nahıl" at weddings.