An Elamite clay tablet was discovered within the Burnt City by a team of Iranian, Italian, and Serbian archeologists.
Called "Shahr-e Sukhteh" in Persian, The ruins of this prehistoric city became a UNESCO World Heritage Site in July of 2014. The city sits on the banks of Helmand River along the Zahedan-Zabol road, which was once a junction of Bronze-Age trade routes in the southeast province of Sistan and Baluchestan.
The finding of such [clay] tablets is not unusual in Iran's western areas, but leading Iranian archaeologist Seyyed-Mansour Seyyed-Sajjadi stated on Thursday that archaeologists had never made such a unique discovery in the easternmost point of the Lut Plain and southeastern Iran.
"It is the first time that such an important clay tablet that is an accounting record has been discovered in Shahr-e Sukhteh since 50 years ago when the site underwent archaeological excavation for the first time," said Seyyed-Sajjadi who leads the current excavation on Burnt City.
Measuring 11 by seven centimeters, the tablet was found by archaeologist Hossein Moradi some four meters below the surface in the Room 27th of a once residential area, Seyyed-Sajjadi explained.
"The clay tablet bears some signs some of which depict the types and quantity of shipped goods… it also has signs that are still unfamiliar for us."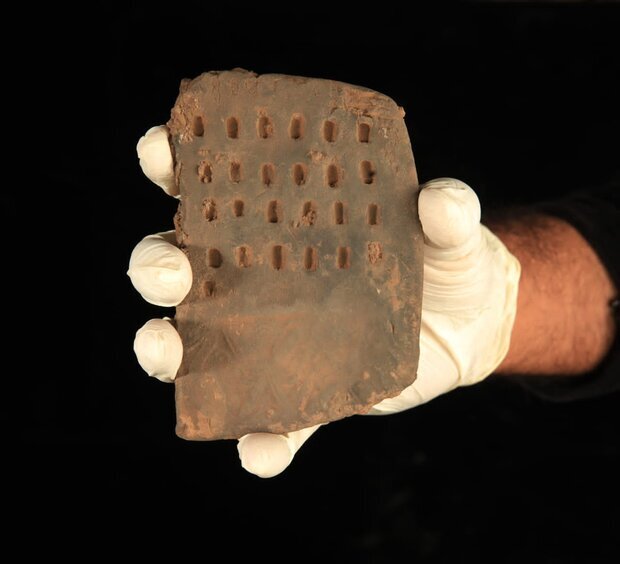 Arrays of animal and human figurines are amongst other relics discovered recently during the 19th season of archaeology that commenced on November 19 on the site.
The figurines include various animal designs, especially cows, as well as human statues, which are in the form of sitting women and standing men. Moreover, a kiln has been unearthed as well. However, it is not yet determined to be a pottery oven or a metal smelting furnace, according to Seyyed-Sajjadi.
Furthermore, archaeologists have already discovered the remains of a prehistoric monkey in Burnt City, concluding that the animal was held in captivity in a cage when it died. Based on surveys and scientific studies on the monkey's skeleton, the animal was dead in captivity in a cage and it was buried by its owner like a child within a beautiful container, according to Seyyed Sajjadi.
In his speech, Seyyed Sajjadi added that the burned city had many commercial relations with eastern regions such as northern India and Central Asia and that the monkey came from there. He also noted that in the ancient world, monkeys were viewed primarily as a luxury and aristocratic item and were imported to be offered to people from certain social classes, such as the elite, merchants, governors, and religious officials.
Founded around 3200 BC, Burnt City was populated during four main periods up to 1800 BC.
Located 57 kilometers from the city of Zabol in Sistan-Baluchestan province, southeast Iran, Burnt City is one of the most important prehistoric sites of the country which was well developed during the third millennium BCE.
Spreading over a 300,000-hectare area, Burnt City was recently recognized as mainland Iran's largest prehistoric site. The city experienced four stages of civilization and was burnt down three times, which is why it was named 'Burnt City.' The Discovery of hundreds of historical sites including 166 satellite villages together with large numbers of archaeological relics, skeletons, and ancient structures in the archaeological site of Burnt City makes it the holder of an unparalleled record in history of archaeological activities in Iran.
Source: Tehran Times