A team of researchers with the Mexican National Institute of Anthropology and History (INAH) has unearthed the remains of a circular temple that may have been built in honor of the Maya serpent deity Kukulcán, the Maya counterpart to the Aztec wind god Ehécatl-Quetzalcóatl.
Overshadowed by more famous Maya sites like Chichen Itza and Palenque, the lesser-explored El Tigre also known as Itzamkanac in Campeche State was the capital of the Acalán Maya.
The early center of the city dates from the late Maya Preclassic period, while the majority of structures standing today were constructed during the early Classic period.
The roughly 1,000-year-old temple served as one of the ancient Maya's last settlements before the civilization collapsed, according to a translated National Institute of Anthropology and History (INAH) statement.
The recently discovered structure dates to the period 1000-1200 A.D. and could be linked to the cult of Kukulcán, who is equivalent to the wind god Quetzalcóatl of Aztec mythology, INAH said.
Excavations revealed that the circular structure contained two levels and at one time would've been capped off with a flat roof. It is similar to several other structures that have previously been found across the Yucatán at sites such as Edzná, Becán, Uxmal, and Chichen Itzá.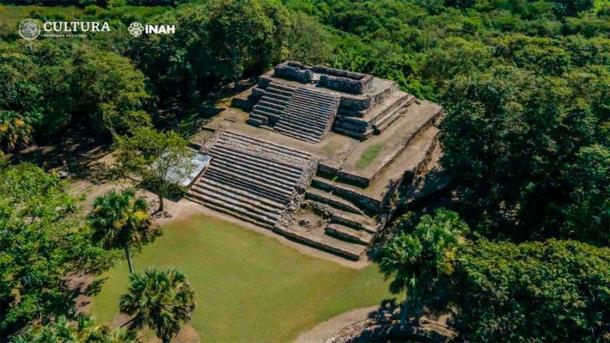 The structure's significance stems from its age, which corresponds to a period when the ancient Maya settlement maintained strong ties with other regions of Mesoamerica, including central Mexico, Oaxaca, and the Gulf Coast. These connections would have allowed religious ideas to spread between the Chontal Maya and other regions. The cult of Kukulcán, for example, may have been influenced by the Quetzalcóatl cult, despite its origins in earlier Maya traditions.
The site was mentioned in the Chontal chief Don Pablo Paxbolón's (1575-1576) Paxbolón Maldonado Papers, which reported that the site had structures dedicated to four main deities of the Post-Classic Maya era, one of which was Kukulcán, the Maya invocation of the Aztec Quetzalcóatl.
Due to this, the archaeologist Vargas Pacheco has proposed that El Tigre matches the Itzamkanac of the historical sources since these agree with the location cited and the archaeological data on its identification.
Discoveries in the Campeche region have revealed intricate city planning, monumental architecture, and detailed reliefs depicting rulers, gods, and everyday life. The glyphs and inscriptions found in the region have provided valuable insights into the political, economic, and religious aspects of the ancient Maya.
Cover Photo: INAH