On Sunday, Israeli archaeologists revealed that they had found the earliest proof of silver being used as money in the Levant, which includes modern-day Israel, Jordan, Lebanon, Syria, and the majority of Turkey.
The earliest evidence of silver being used as currency in the Levant dates back more than 3,600 years, which is 500 years prior to previous estimates.
The silver artifacts, called hacksilber in German because they were cut to specific weights, are thought to have their origins in ancient Anatolia.
"This is the earliest evidence of hoarded silver," the University of Haifa's Dr. Tzilla Eshel told The Times of Israel.
According to researchers from the University of Haifa and the Hebrew University of Jerusalem, the silver hoards were discovered during excavations in Israel's Shiloh, Megiddo, and Gezer as well as Tel el-'Ajjul in the Gaza Strip. They date back more than 3,600 years, to the Middle Bronze Age, or about 500 years earlier than previously thought.
An isotopic analysis was carried out to determine their source, and the outcomes were compared to the make-up of known-origin ores and other silver objects.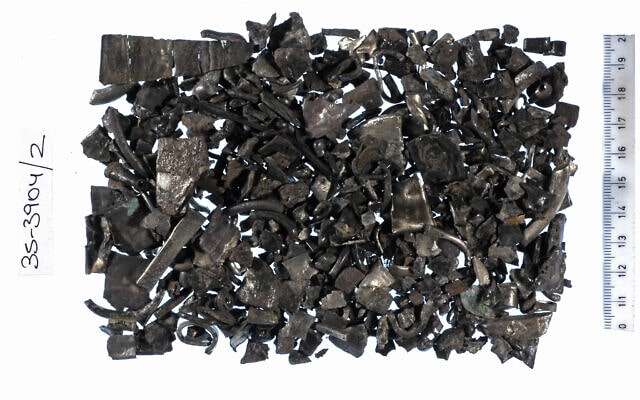 The fact that the silver pieces were unpolished, implying that they were not used as jewelry or ornamental objects, and were generally found wrapped in cloth and kept in pottery, suggests that they were used as a form of payment.
The discovery, which was published in the Journal of Archaeological Science, demonstrates that ancient cities in the region had far more developed long-distance trade relationships and local economies than previously thought.
"This means that we are witnessing the first evidence that there was continuous and long-term trade of metals between the Levant and Anatolia, already 1,700 years before the common era," said Dr. Tzilla Eshel. "We know for sure that in the Iron Age, this kind of trade existed, but our findings move the beginning of this type of trade in metals to 500 years earlier," she said.
One shekel is believed to have been equal to approximately 16 grams of silver.
Researchers started looking for the silver's source because there were no known silver mines in the Levant. The researchers were able to match it to silver mined in Anatolia, or modern-day Turkey, using isotopic testing, which examines the chemical composition of lead in the silver. The silver was found in the excavated hoards alongside other Anatolian objects, such as an ax head and a pendant, confirming Anatolia as the likely origin of the silver.
Cover Photo: Pieces of hacksilber discovered at Tel Gezer, before cleaning. Photo: Israel Antiquities Authority