A Pictish carved stone cross slab with a rare inscription in the early medieval ogham language has been discovered in Scotland's Old Kilmadock Kirkyard near Doune.
It is one of only 30 known ogham inscriptions found in all of Scotland, and the first discovered in the Forth Valley.
The stone's surface was first uncovered in 2019 by volunteers from the Rescuers of Old Kilmadock (ROOK), but it wasn't until September of this year that volunteers and archaeologists were able to fully excavate the slab, exposing its edges and ogham symbols.
The stone measures 47 inches high by 32 inches wide and has a rounded top. A knotted cross is carved into the stone's surface. The terminals of the enlaced scrolls are shaped like bird heads. They have flamingo-like sharply curved beaks, but if they are representations of actual birds rather than stylized abstractions, they are most likely pelicans in piety, popular symbols of Christ's sacrifice.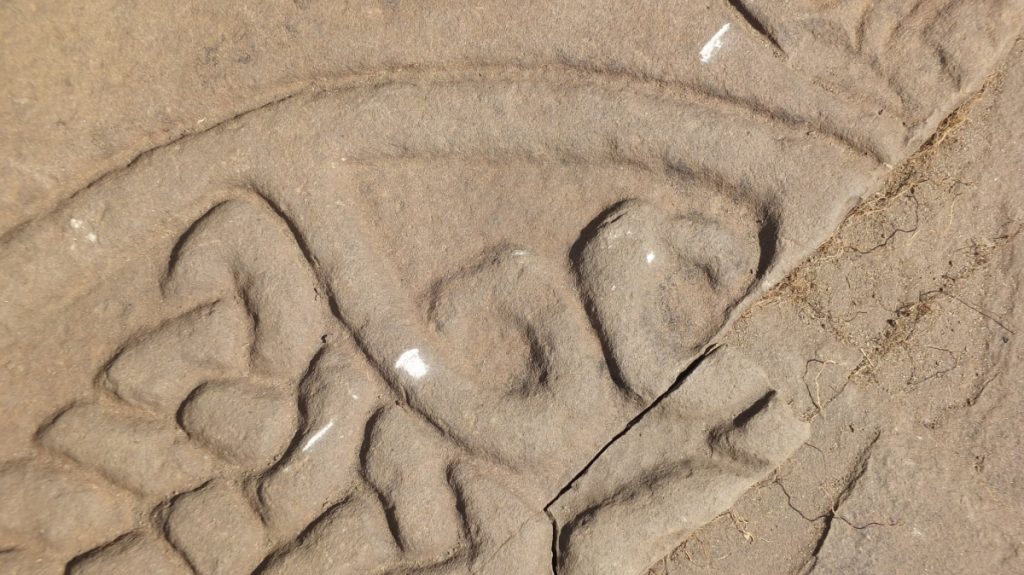 One of the oldest cemeteries in central Scotland is Kilmadock. Although the kirkyard dates to the ninth century, the Pictish cross slab is older. It was raised on a hilltop overlooking the Rover Teith sometime between 500 and 700 A.D. Archaeologists think a monastery once stood on the location. The presence of ogham characters on the cross-slab suggests the monks may have been literate.
Ogham characters first appear on monumental inscriptions in the fourth century AD. Nearly a third are found in England, Wales, Scotland, and the Isle of Man, but the majority are from Ireland.
Dr. Kelly Kilpatrick, a historian and expert in Celtic epigraphy, will use photogrammetry to create a 3D model of the stone and try to decipher the newly discovered inscription. She said: "It's a hugely important find. It tells us that in the early medieval period there were literate people here who could read and write, potentially in Latin, but who were also familiar with the ogham alphabet.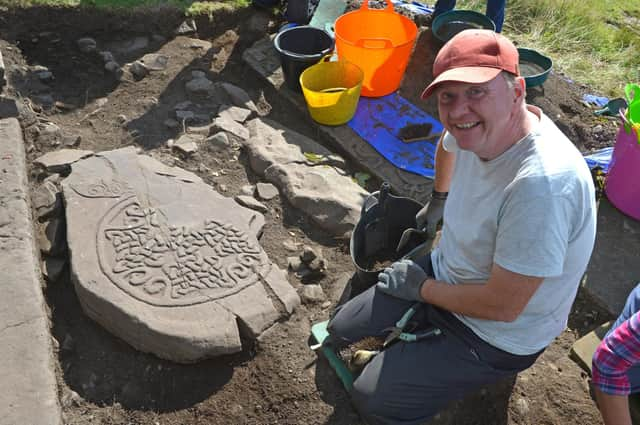 "As soon as it was found I took one look and said 'that's ogham'. The inscription is likely to go all the way around, although I can't be certain until the stone is lifted. They tend to say personal names. I can say with reasonable confidence we've got some e's and t's in there."
Stirling archaeologist Dr. Murray Cook, who led the recent dig, said funds would now have to be raised to lift the stone so that it could be examined in full and experts could assess the cost of its conservation before it can be displayed.
ROOK has started a fundraiser with a goal of £5,000 for the conservation of the stone. Click here to donate to the cause.