An early medieval double grave was discovered in Kirchheim am Neckar Friedrichstrasse, southern Germany, during excavations supervised by the State Office for the Preservation of Monuments (LAD) at the district council in Stuttgart and carried out by the company AAB.
Two plots of land in Kirchheim's cultural monument area were excavated in advance of development. The presence of a burial ground had been known since the nineteenth century but the discovery of a double grave inside a ring ditch was unprecedented.
A circular mark on the floor indicated an earlier burial mound with a very large cemetery. The circular mark on the ground was all that remains of a large tumulus. The burials consist of two adjacent wooden chamber graves built over carved rock. One belonged to a woman, and the other to a man. Both of the graves had previously been plunder, but the tomb raiders only plunder from the knees up. Looters really missed out because the areas below the knees were unspoiled.
Below the foot of the buried man were a large ornate bone comb, silver sheet bands, a ceramic pot, a glass tumbler, horse bridles and a bronze vessel filled with organic material and animal bone and a large egg-like object beneath a ceramic bowl.
A gold coin was also found as an obolus in the dead man's mouth (The coin is known as Charon's obol in Greek and Latin literature, and it was used as a payment or bribe for Charon, the ferryman who transported souls across the river that separated the worlds of the living and the worlds of the dead.)
Despite being looted, the woman's burial was also lavishly furnished. Grave goods found in her grave include a pearl necklace, a gold necklace inlaid with almandine, a disc brooch, a woven sword, scissors, a glass beaker, and a chatelaine with a decorative disc and a Cypraea snail shell hanging from it. These were high-value objects, jewelry, and household goods alike. The Cypraea was imported from the Indian Ocean and was a very expensive charm to hang from a belt.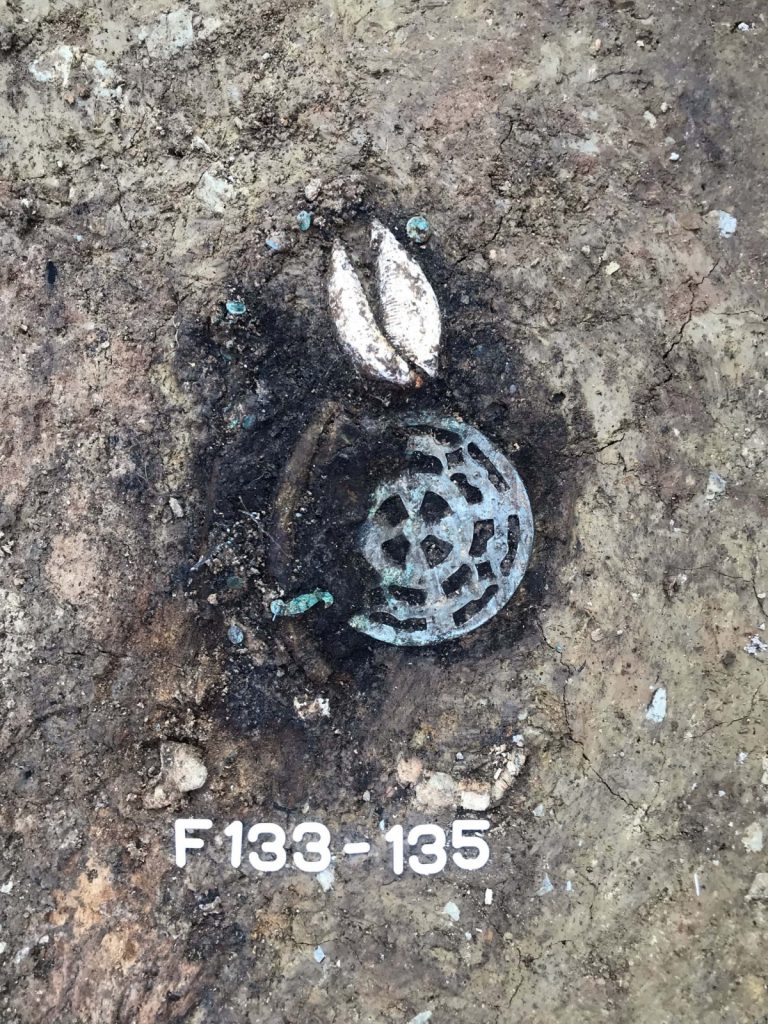 A decapitated horse's remains were buried just outside the ring ditch. The presence of horse bridles in the man's grave suggests that the horse was buried alongside the burial.
Excavation of 22 more graves was found on the two properties. It is thought that the entire cemetery probably originally consisted of several hundred graves.