After the collapse of the Hittite Empire, the Late Hittite States was established in Anatolia and Syria. One of these states is the Carchemish Hittite State, which was established in the Karkamış district of today's Gaziantep province.
Carchemish, a strategically important place due to being on the Syrian trade routes, was a valuable kingdom for the Hittites, Mitanni, and Hurrians. The Kingdom of Carchemish, which was joined to the Hittite lands by Suppiluliuma I, has always been a vassal of the Hittite kingdom.
Today excavations continue in Carchemish, which is now within the borders of Turkey and Syria, under the direction of Professor Nikolo Marchetti from the University of Bologna, Italy, under the assistantship of Associate Professor Hasan Peker, a lecturer in the Hittitology Department of Istanbul University. During the excavation, many archaeological artifacts, cuneiform tablets, and seals that will shed light on the history of the period were unearthed.
The world's first emoji water flask
The 3,700-year-old water flask with the smiley emoji found in the excavations carried out 4 years ago attracted a lot of attention.
The water flask, which is considered to be the first example of emojis, whose popularity has increased especially with the use of social media, will be opened to visitors at the Gaziantep Archeology Museum.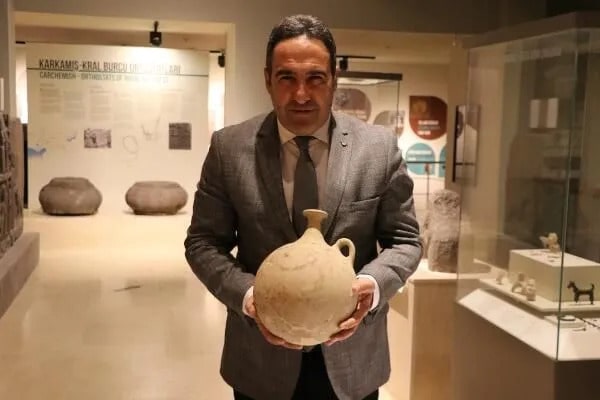 According to the news in AA; Gaziantep Museum Director Özgür Çomak told Anadolu Agency (AA) that the ancient city of Karkamış is one of the most important ancient cities in the world and excavations have been carried out periodically since the Republican period.
Stating that Carchemish, on the banks of the Euphrates, was the capital of the Hittite period, Çomak stated that the excavations by Professor Nikolo Marchetti are currently continuing in the ancient city where important artifacts were found.
Çomak stated that among the artifacts unearthed, there was also a water flask with a smile expression on it, "A single-handled flask, a Middle Bronze Age artifact made of terracotta. It is an artifact from about 3,700 years ago. Our first artwork with a smiling emoji in the world." he said.
Noting that the work will take its place in the museum in the near future, Çomak said, "We have completed all the museum works of this work. When it was first found, it came out in many pieces. It has been restored, we are planning to present it to our visitors with a temporary exhibition in the hall we are now in after it has been restored."
Pointing out that he received very good comments when he shared the work on social media, Çomak said, "The fact that the emoji we use every day in our daily lives is a smile from 3,700 years ago, of course, creates curiosity." used the phrase.