Polish archaeologists excavating the Theban Necropolis in Egypt discovered nine crocodile heads hidden inside two tombs belonging to high-ranking nobles.
The Theban Necropolis is a region in Upper Egypt on the west bank of the Nile, opposite Thebes (Luxor). It was used for ritual burials for much of the Pharaonic period, especially during the New Kingdom.
The discovery was made by a team of archaeologists from the Centre of Mediterranean Archaeology at the University of Warsaw, led by Dr. Patryk Chudzik. Their research has been published in the Journal of African Archaeology.
Since 2013, the team has been examining two tombs in the necropolis, one of which belonged to "Cheti," a significant official during the reign of Pharaoh Nebhepetra Mentuhotep II (2055–2002 BC), and the second from an anonymous, but a high-status member who served at the royal court.
Archaeologists recently discovered nine wrapped-in-fabric crocodile heads in both tombs. These heads had not been mummified or given any other special preservation methods.
Dr. Patryk Chudzik told that the discovery was "the first of its kind".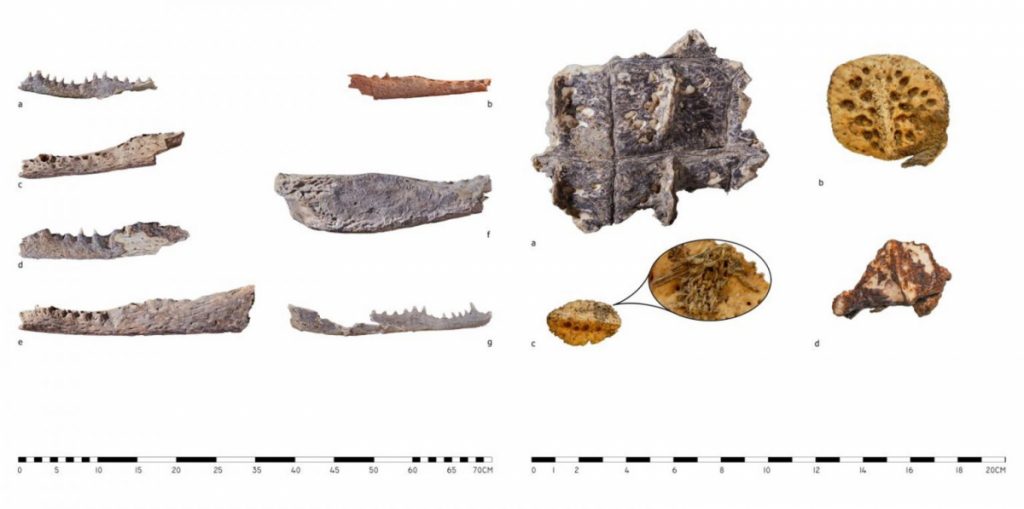 The skulls belonged to Crocodylus niloticus, a large crocodilian native to Africa's freshwater habitats.
Dr. Chudzik said, "This is a completely unusual discovery and the first of its kind in the history of research in Egypt. We know of many crocodile mummies that have been found along the Nile. They are all mummies of whole crocodiles that have been deposited in specially prepared catacombs of sacred animals, in this case, crocodiles or sacred animals of the god Sobek."
"In our case, things are different. Firstly, only the heads and not the entire bodies of these Nile reptiles have been deposited in the tombs where we work. Secondly, they were not mummified but only wrapped in linen (there is a significant difference in this, as no preservatives were used). Finally, the remains were found in the tombs of humans, not the catacombs of sacred animals."
Crocodiles were worshiped in the form of the god Sobek in Ancient Egypt. Sobek is associated with the Nile or West African crocodile and is depicted as either a true crocodilian or a human with a crocodile head. Sobek was also associated with pharaonic power, fertility, and military prowess, but he also served as a protective deity with apotropaic qualities, especially for protection against the Nile's dangers.
Cover Photo: Temple of Hatshepsut near the Theban Necropolis (Merlin UK/ CC BY-SA 3.0 )