Work has been initiated to transfer the historical Armenian Church, which was built in the 16th century in the province of Diyarbakır in southeastern Turkey, which was not used because it had no congregation and was ruined over time, to future generations.
The historical church, which has an area of 3,769 square meters in the central Sur district of Diyarbakır, and whose ownership belongs to the Diyarbakır Surp Giragos Armenian Church Foundation, will be restored.
The church, whose upper structure was completely destroyed, is also known as the Paddy Church as it was used as a paddy factory for a long time.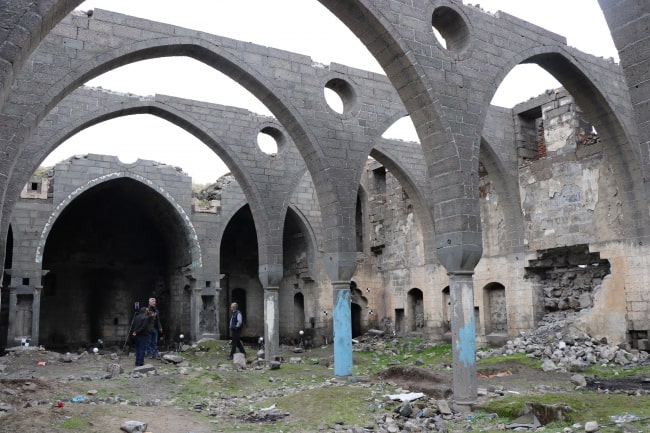 An inscription, now in the Diyarbakir Archeology Museum, says the Christian place of worship was last repaired in 1840.
Cemil Koc, head of the Culture Ministry's Directorate of Surveying and Monuments in Diyarbakir, said the 16th-century building deteriorated over time due to a decline in congregations.
He said the premises was used as a warehouse by various public institutions in the past.
The official added that the "monumental" building has immense importance for Diyarbakir. "Measurements that will form the basis of the building survey and projects are being made. Material samples have also been taken, which will help in getting more information about the church's architectural style."
Ergun Ayik, the head of the foundation, said the building is one of the two surviving churches in Diyarbakir, and that they have begun the process to return it to its former condition.
The Diyarbakir Directorate of Surveying and Monuments was instructed to make the project service procurement of the church, which needs to be repaired in order to transfer it to future generations, with an allowance to be met by the Diyarbakir Investment Monitoring and Coordination Presidency (YIKOB).
Contribution of immovable cultural assets, with the allowance provided by the Governor's Office, a tender was held on 28 December 2021 by the Diyarbakır Directorate of Surveying and Monuments. The contract for the tender, which was made for a price of 941 thousand 640 Turkish liras, was signed.