The Egyptian Ministry of Tourism and Antiquities announced recently the discovery of five 4,000-year-old ancient tombs in the Saqqara archaeological sites southwest of Cairo.
"The Egyptian archaeological mission uncovered five tombs about 100 meters northwest of the Merenre Pyramid in southern Saqqara," the ministry said in a statement.
According to Mostafa Waziri, the head of Egypt's Supreme Council of Antiquities, the five tombs — all of which are in good condition — belonged to senior royal officials.
The tombs contain finds and objects dating back to the end of the Old Kingdom spanning from 2686 BC to 2181 BC and the beginning of the First Intermediate Period spanning from 2181 BC to 2055 BC.
The Ministry of Tourism and Antiquities said one of the tombs belonged to a top official named Iry. A limestone sarcophagus and colorful decorations were found in the tomb. This tomb has a shaft that leads to a burial chamber whose walls portray a funeral with offering tables, the facade of a palace, and seven oil pots.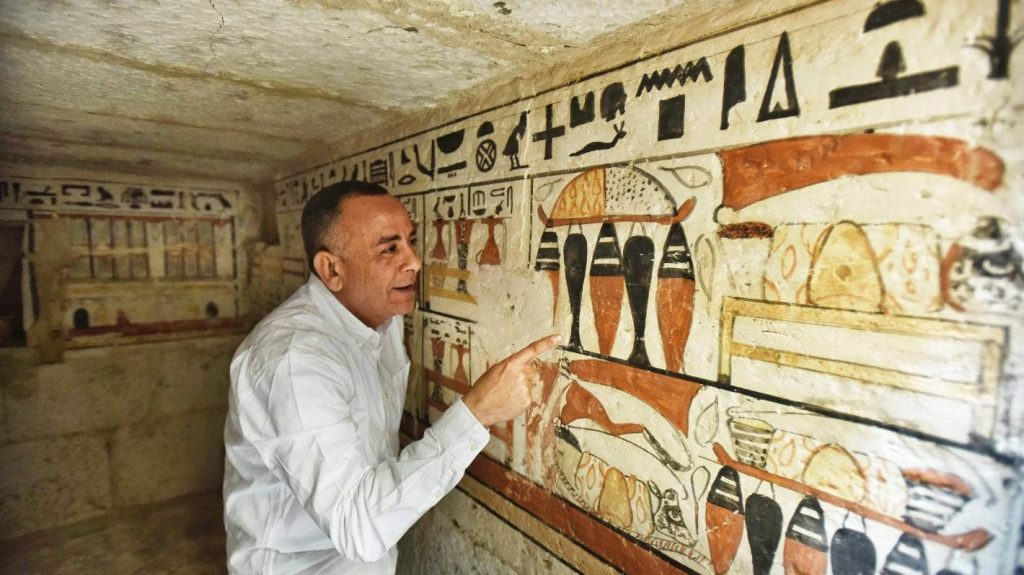 The second tomb, likely belonging to the wife of a person named Yart, has a rectangular shaft.
The third one belongs to a person named Bi Nafarhafayi, who held several positions including the supervisor of the Great House, the chanting priest, and the cleaner of the house.
The fourth tomb, discovered six meters underground, is for Betty, a woman responsible for the king's makeup and dressing. She was a priestess of Hathor, the goddess of love, beauty, music, dancing, fertility, and pleasure.
The last tomb for a man named Hannu has a seven-meter-deep rectangular shaft. Hannu's titles include supervisor of the royal palace, mayor, supervisor of the Great House, bearer of the seals of Lower Egypt, and supervisor of an orchard.
The tombs were found near the Step Pyramid of Djoser, in the Saqqara Necropolis, 24km southwest of Cairo.
Footage shared on the ministry's social media pages showed burial shafts leading to the tombs. Walls were seen decorated with hieroglyphic inscriptions and images of sacred animals and after-life items used by ancient Egyptians.
The Saqqara site is part of a sprawling necropolis at Egypt's ancient capital of Memphis that includes the famed Giza Pyramids as well as smaller pyramids at Abu Sir, Dahshur and Abu Ruwaysh.
The ruins of Memphis were designated a UNESCO World Heritage site in 1970s.