Archaeologists have recently discovered bitumen and mortar plastered onto a brick dating back to the Babylonian King Nebuchadnezzar II. This brick may have been used in the construction of the famous tower of Babel.
According to the news of Ekspress, archaeologists were stunned on finding bitumen and mortar on a brick commissioned by the ancient Babylonian King Nebuchadnezzar II – revealing vital clues about the city's famed Tower of Babel.
As it is known, the Tower of Babel was rebuilt by King Nebuchadnezzar II.
The Bible has a variety of intriguing stories, one of which is the Tower of Babel. For years, scholars have been unable to confirm its existence: some claim it was only a metaphor, while others claim it was a real, functioning structure. According to Genesis 11:1-9, the tower was built in the land of Shinar — Babylonia — sometime after the great flood.
Curiosity and investigation have yielded a number of significant evidence and substantiation for the tower's existence, including some "unusual construction elements" discovered on a brick thought to have formerly been a component of the tower.
The brick was commissioned by King Nebuchadnezzar II, who is believed to have ordered the tower's construction. In 586 BC, in a drive for world dominion, he besieged Jerusalem, a city 500 miles to the west, capturing its most talented and educated residents.
It is believed that when these individuals were carried to Babylon, which is located in modern-day Iraq, they were transformed into slaves, made to work, and held in captivity. Some scholars believe that when these prisoner Jews saw the tower being built, they were first mesmerized, but quickly saw it as a symbol of their captivity.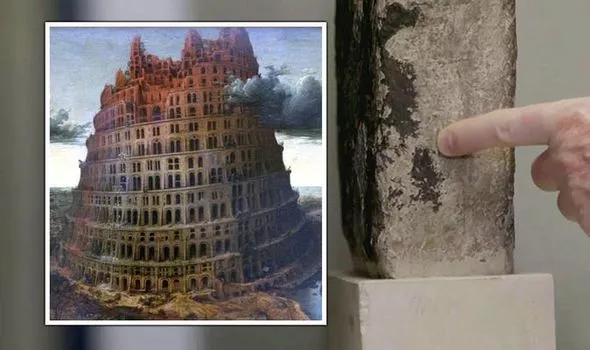 Their plight — and how their presence in Babylon may hint at the existence of the tower — was recalled during the Smithsonian Channel's documentary, 'Secrets Unlocked: Tower of Babel'.
According to historical accounts, King Nebuchadnezzar II built the city of Babylon using 15 million baked bricks in the construction of his palace and other official buildings. The bricks were cut into squares and embossed with Sumerian characters and special seals.
However, it is known that some of the new buildings in the city of Hillah, south of Baghdad, were built with ancient bricks stolen from the ancient city of Babylon in the last century.
Increasing these studies will provide more detailed information on this subject.
The documentary's narrator noted: "There's a compelling clue in the story that backs up a theory that Jewish slaves witnessed the tower being built during their time in captivity."
Presenting an original Babylonian brick, found in modern-day Iraq, they continued: "It carries traces of an unusual construction material from the time: bitumen, an ancient tar, and mortar that's specifically mentioned in the biblical tale."