Mustafa al-Waziri, the Secretary-General of the Supreme Council of Antiquities (SCA), recently announced the discovery of new stone ram heads during excavation work on the Avenue of Sphinxes (also known as el-Kebash Road).
In a Facebook post on October 7, Waziri posted photos of the stone ram's heads and other newly found stone statues.
The archaeological mission operating in the al-Assasif area on the western mainland in Luxor province found three ram heads.
One of the heads, Mustafa al-Waziri said, belongs to King Amenhotep III, "for the ram's head contains the horn, the eye, and the hole in which the cobra is placed." The crown of Amenhotep III had holes for the serpent.
"The ram heads are expected to be placed on the bodies of the statues along the road," he noted.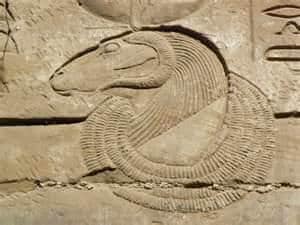 In a Facebook statement on Oct. 11, the Ministry of Tourism and Antiquities announced: "the start of restoration work on the newly found stone ram heads on the Great Processional Way [another name for el-Kebash Road], as part of the archaeological excavations ongoing south of the Karnak temples at the gate of Ptolemy III Euergetes."
The Luxor Temple and the Karnak Temple are linked by the 3,000-year-old Great Processional Way (el-Kebash Road). The sandstone road is lined on both sides with statues in the shape of a ram-headed sphinx.
"El-Kebash Road is an open museum that connects the temples of Karnak and Luxor, stretching for 2.7 kilometers," Waziri told Al-Monitor. "98% of the work is done" on the restoration of the road. "The cleaning and restoration of the temples on the site are currently underway. So far, the colors that were first used after the construction of temples by the ancient Egyptians have been restored.
The opening ceremony, he said, will be "a historical event to highlight the beauty, charm, and history of Luxor, and its tourist and archaeological potentials to the world, with the aim of attracting tourists from all over the world."
The Egyptian Ministry of Tourism and Antiquities has not yet set a definitive date for the el-Kebash Road's inauguration. However, according to local publications citing government sources, the inauguration ceremony will take place on November 4 amid a big pharaonic festival in the presence of foreign embassies and Egyptian officials, and will be aired live by local and international media outlets.