Shrubbery intended to illuminate a corner of a nondescript parking lot in Japan's Nara prefecture turned out to be hiding the tomb of an elite figure from ancient times.
Archaeologists uncovered numerous artifacts after removing centuries of soil from the stone burial chamber, including two iron swords, arrowheads, items associated with horse riding, amber jewelry, and clay pots.
According to researchers from Nara University and the Ikaruga Municipal Board of Education, the chamber, which is about 3.8 meters long, 1.6 meters wide, and 1 meter high, dates to the late sixth century.
Archaeologists have been excavating the area located near the World Heritage site encompassing Horyuji temple since spring of 2022, and the ceiling of the tomb found was missing. This prompted the team members to speculate the stones were used to build Horyuji temple, which was completed in the early seventh century.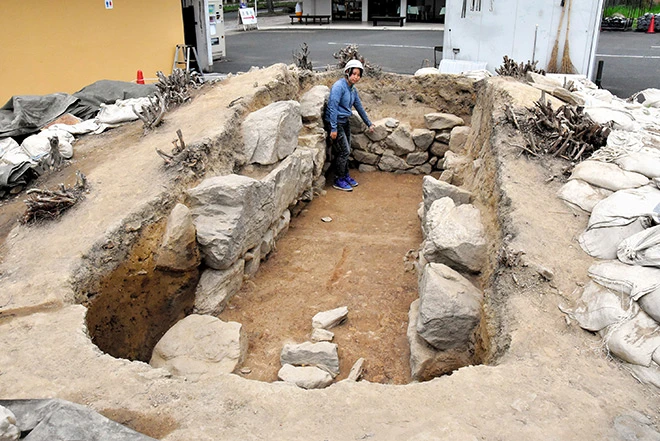 "It is possible the ceiling stones were removed for use in the construction of Horyuji temple and the Ikaruga palace, where Prince Shotoku (an influential political leader of the era) lived with his family," said Naohiro Toyoshima, a professor of archaeology at Nara University and a member of the research team.
"At that point, the stone chamber could have been buried along with all those items," Toyoshima told the Asahi Shimbun.
When archaeologists began digging, the circular site didn't look particularly interesting. It was about 8.5 meters in diameter and 1.5 meters high, and it was covered in shrubs. But educational board experts had long suspected that the bushes concealed an old tomb; they called it the Funazuka kofun burial mound.
Researchers' hunch was only confirmed after the recent excavation got underway.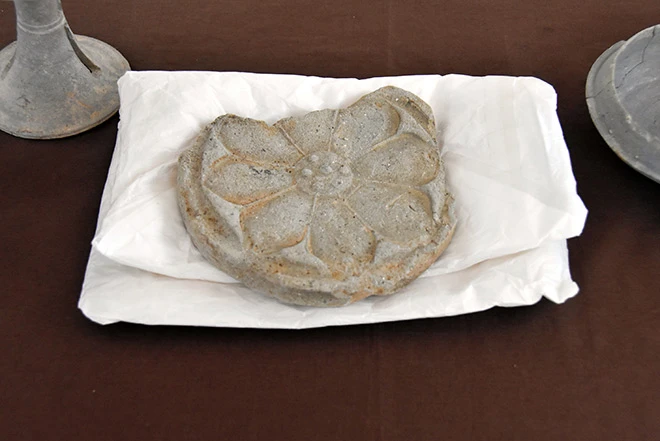 A kofun is a burial mound inside which an influential or important person was buried. The tradition of burying people in Kofun started around the 3rd century and lasted about 400 years, and they were only constructed by people holding a high rank. There are various types of burial mounds, including zenpokoenfun (keyhole-shaped mounds) and enfun (round mounds). They were constructed in many different sizes ranging from only 10 meters to as big as 400 meters.
Cover Photo: Shrubbery at a parking lot in Ikaruga, Nara Prefecture, hides a sixth century tomb. Photo taken in March 2022 (Provided by the Ikaruga municipal board of education)