The two copper-tin-lead alloy Buddha statues discovered in northwestern Shaanxi Province became the earliest Buddha statues of this kind unearthed in China.
Two alloy Buddha statues and a number of items were excavated from a group of ancient tombs dating to the Eastern Han Dynasty (25-220) in northwest China's Shaanxi Province, the Shaanxi Academy of Archaeology said Friday.
The tombs were located in Chengren Village, Xianyang City. Six tombs were excavated in May this year.
The details of the two statues were revealed. One is for Sakyamuni and the other for Five Tathāgatas.
The total height of the Sakyamuni statue is 10.5 centimeters, the diameter of the base it sits on is 4.7 centimeters, and the total height of the Five Tathāgatas is 15.8 centimeters and the width is 6.4 centimeters.
According to archaeologists, the carved figures, which were widely believed to embody religious beliefs, did not appear until the Sixteen Kingdoms Period, dating back 200 years earlier than previous discoveries.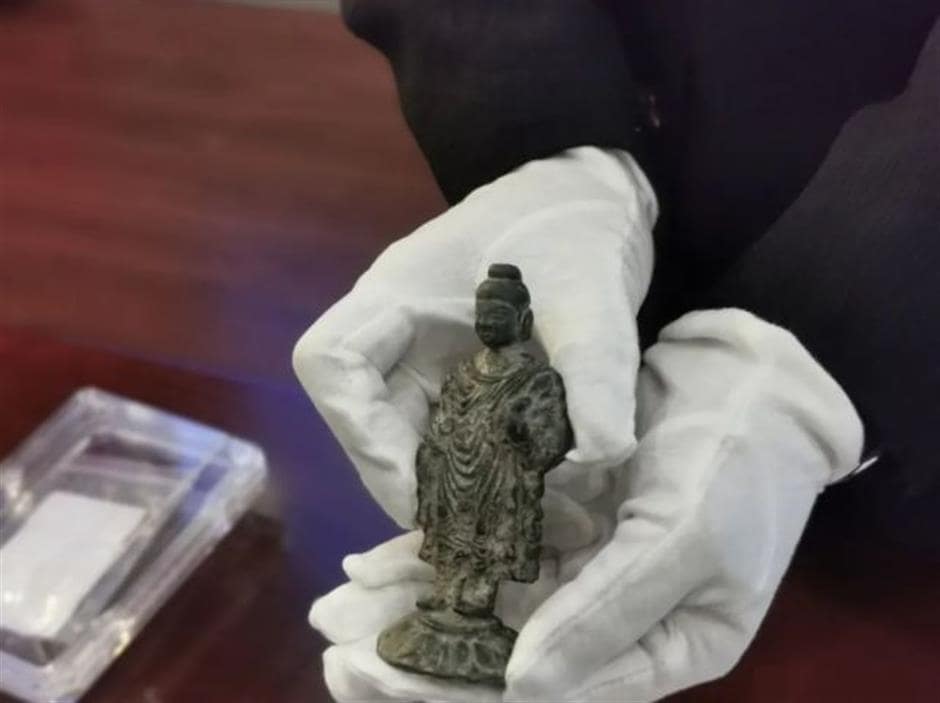 Based on preliminary results of the modeling characteristics, manufacturing process analysis, and metal composition detection of the Buddhas, it can be concluded that the two statues are of Gandhara style and made locally, which has important research value for the introduction and Sinicization of Buddhist culture.
The two Buddha statues are both copper-tin-lead alloy according to archaeological analysis, said Li Ming, a researcher with the Shaanxi Academy of Archaeology.
"The findings of the Buddha statues are of great significance to the study of the introduction of Buddhist culture to China and its localization in the country," Li added.
According to Li Ming, the leader of the archaeological project, the excavation site called Hongduyuan cemetery in the north of Chang'an, now known as Xi'an, as the capital city of ancient China's Han and Tang dynasties, was the highest grade cemetery in the period apart from the emperor's mausoleum. Most of those buried in the tombs are found to be royal relatives, senior officials, and dignitaries, all recorded in historical books.
From June 2020 to November 2021, 3,648 ancient tombs, spanning from the Warring States period (475 B.C. – 221 B.C.) to Qing Dynasty (1644-1911), have been excavated by the Shaanxi Academy of Archaeology in Shaanxi's Xianyang City.
So far, more than 16,000 pieces (sets) of cultural relics have been unearthed, and quite a number of important archaeological findings have been reported.
The excavations are continuing at the site.
Source: Xinhua