The 2,000-year-old Roman bathhouse Basilica Therma or King's Daughter in Türkiye's central Yozgat province is nearing the final stages of its extensive landscaping restoration, Yozgat Governor Ziya Polat noted recently.
The Basilica Therma Roman Bath, known as the 'King's Daughter' (Turkish: Kral Kızı Hamamı or Sarıkaya Roma Hamamı) is an ancient Roman spa town located in the Yozgat province of Turkey.
This historic gem, inscribed on UNESCO's Temporary World Heritage List in 2018, has been undergoing a transformative restoration effort to highlight its remarkable architecture, rich history, and the therapeutic thermal water flowing at a soothing 50 degrees Celsius (122 degrees Fahrenheit).
The landscaping project on the ancient structure, known for its thermal water pools that allow swimming even in the dead of winter, began in 2022 under the supervision of the Museum Directorate.
Yozgat Governor Ziya Polat revealed while speaking to journalists last week that the landscaping project is on track for completion by Aug. 15, unlocking its potential as a treasured tourist attraction.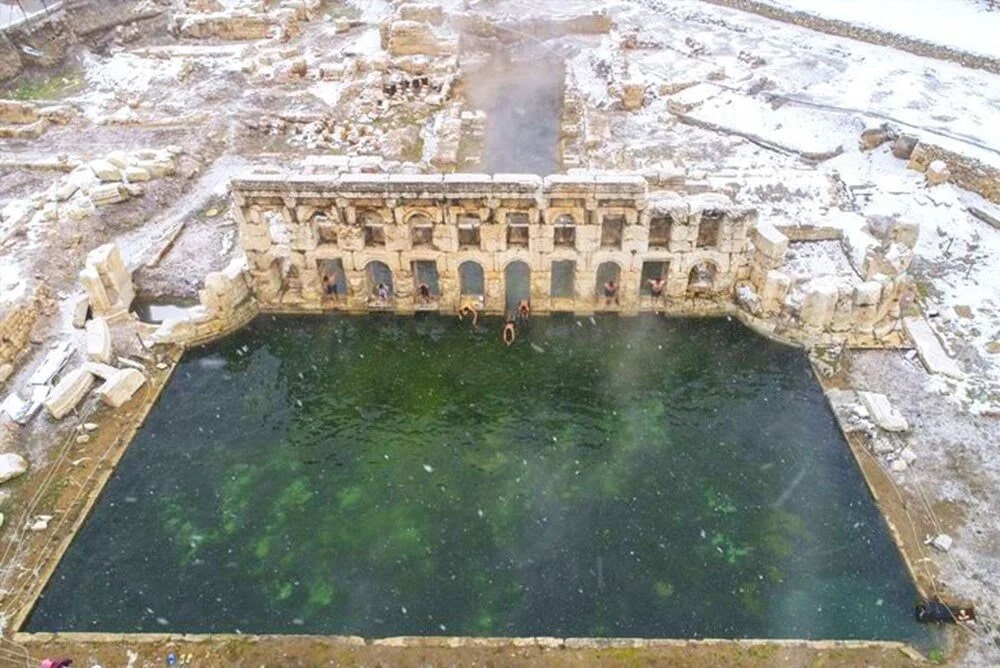 The Roman Bath, which was unearthed after the excavations carried out in 2014 by the Yozgat Governorship Provincial Culture and Tourism Directorate and Sarıkaya Municipality, draws attention to its interesting architecture, history, and water that has been produced for two thousand years.
This Roman Bath that was built in the 2nd century A.D. has been used continuously and this gorgeous fountain still continues to be a source of healing with thermal waters.
Due to this nearby thermal spring, the town on the route from Tavium to Caesarea during the Roman era was known as Aquae Sarvenae. A church was later added to the bath's northern portion as Christianity spread throughout the area. As a result, the town's name was changed to Basilica Therma. Basilica Therma served as a bishopric center up until 451 AD. The center of the town was a Roman bath and the town was surrounded by a wall about three kilometers long.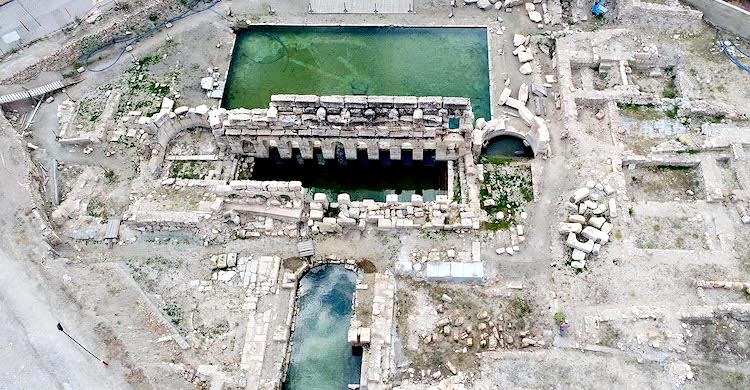 The facade and pools of the Roman Baths were made of marble, while the inner walls were made of limestone. Today, the main parts of the structure can be seen: a western facade, a large thermal pool in front of it, an inner pool behind the facade, and a third pool to the east. On the northern and southern sides of the 30-meter-long facade, two small semi-circle pools are planned. Behind the façade is an inner pool surrounded on both sides by stairs and arches that connect directly to the large pool in front.
Cover Photo: Yozgat İl Kültür Müdürlüğü