Hierapolis Pluto or Pluto's Gate is a ploutonion (a religious site dedicated to the god Pluto) in the ancient city of Hierapolis near Pamukkale in today's Denizli Province in Turkey.
The foundations of Hierapolis were laid during the Phrygian Era due to the sacred site of Cybele, which included the cave beneath the Temple of Apollo. However, the ancient city of Hierapolis was founded in the second century BC by Eumenes II, King of Pergamum, and its name was derived from Hiera, the beautiful wife of Telephos, the legendary founder of Pergamum.
In 129 BC, the city was annexed to the Roman Empire's Asian province and administered by proconsuls. In the third century BC, it was joined to Pisidia Pacatiana. Hierapolis was important in the spread of Christianity in Asia Minor, and it was the final resting place of Phillip, one of Jesus Christ's twelve Apostles. For this reason, Hierapolis became an important religious center in the fourth century AD. Later, it assumed the title as the Guide of the East and saw its most brilliant years between 96 and 162 AD. In AD 395, Hierapolis came under the control of the Eastern Roman Empire.
During the early Imperial period, between 100 BC and AD 100, the Hierapolis Ploutonion was built in honor of Hades-Pluto and his wife Kore-Persephone.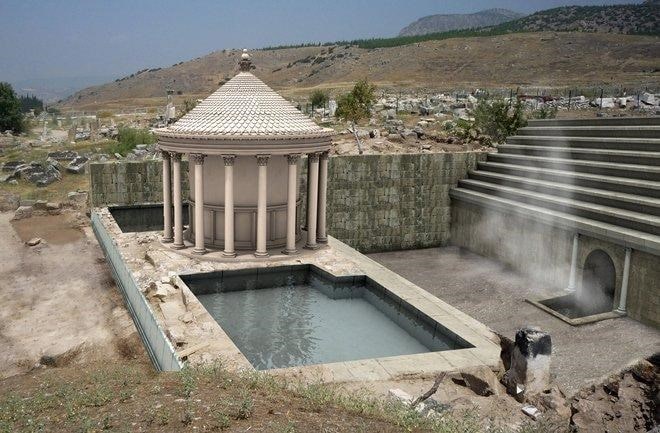 The sanctuary was built over a natural cave that released hot waters and toxic volcanic carbon dioxide (CO2), which emitted as a suffocating invisible mist believed to have been sent by Pluto, the god of the underworld.
The cave was used for rituals by Galli, the eunuch priests of the goddess Cybele, who descended through the "gate to hell" into the chamber to demonstrate their divine protection and sacrifice.
The gateway was built into the wall of an open-air arena, which was surrounded by raised spectator seating known as a theatron. The gas released from the cave settled on the arena floor and grew in concentration throughout the night, eventually forming an asphyxiating CO2 "lake." Scholars believe that the arena was used for animal sacrifices, which were carried out at dawn before the sun's heat dissipated the CO2 concentration.
The ploutonion was abandoned in the 6th century after the gateway was closed off by Christians as part of the purge of pagan ritualism until its rediscovery by archaeologists in 1965.