Archaeologists excavating at Tas-Silġ in Marsaxlokk have discovered the remains of another Neolithic structure, Heritage Malta said.
The discovery substantially increases the size of the land used during the stone age period at this site.
The discovery was announced during a site visit at Tas-Silġ by Minister for the National Heritage, the Arts and Local Government, José Herrera, Heritage Malta's Chief Executive Officer, Noel Zammit, and Superintendent of Cultural Heritage, Kurt Farrugia.
They were shown around the site by David Cardona, Senior Curator for Phoenician, Roman, and Medieval Sites within Heritage Malta, and by Professor Nicholas Vella from the Department of Classics and Archaeology at the University of Malta. The current excavation project at Tas-Silġ is a joint collaboration between Heritage Malta and the Department.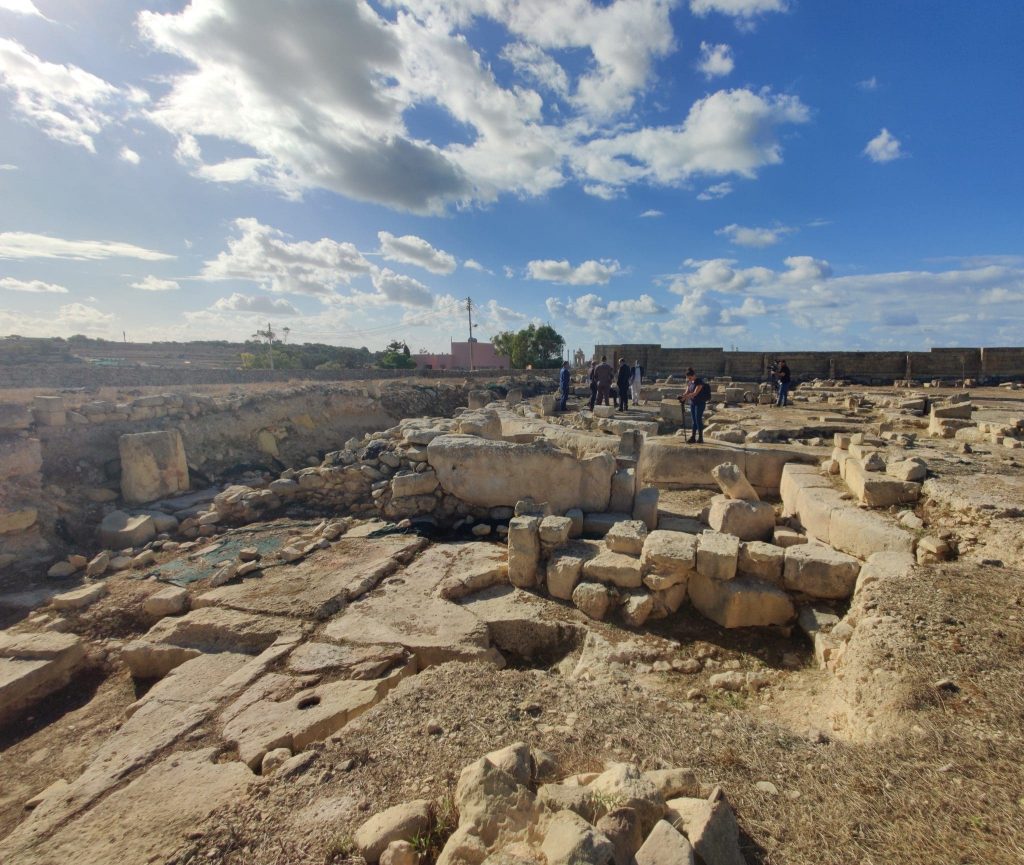 "This is the site with the longest known use on the Maltese Islands, with remains of at least three temples from the Tarxien Phase of the Maltese Neolithic period. The same temples were also used in the Bronze Age, which was possibly the only period in Tas-Silġ's history when the site was not utilized for rituals or religious purposes," Heritage Malta said in a statement on Friday.
When the Phoenicians arrived, they built a temple to the goddess Ashtarte, which was later expanded by the Punics and Romans until at least the second century AD.
Many years later, the main courtyard of the temple was roofed over and converted into a Christian basilica — the first indication of a church being erected on the island. The church was finally abandoned, according to Heritage Malta, with virtually all buildings destroyed. This was the last moment in history when the site was used for religious purposes.
Minister Herrera stated that the site at Tas-Silġ most likely continues beneath the road, essentially dividing the property in two. As shown by the recently discovered remains as well as a large Phoenician cistern accessible from the site, there are likely additional remains from the site's different periods beneath this road that has yet to be uncovered.
Heritage Malta, according to Noel Zammit, is preparing a geophysical examination of the road and surrounding regions, as well as plans and designs to upgrade the site's tourist amenities and explanation.
Kurt Farrugia said that the latest investigations have extended the prehistoric presence in the area way beyond what was previously believed.
Professor Nicholas Vella said that the progressive discovery of the Neolithic structure, being unearthed step by step by students of the Department of Classics and Archaeology together with academics and researchers from the Department and colleagues from Heritage Malta, is a relevant result in the shaping of the history of Tas-Silġ.
"This particular discovery has shed new light on the site's Neolithic use, spurring further exploration of the structure's context in relation to other remains from the same prehistoric phase in the area," he added.