Archaeologists discovered an ancient Sun temple in the Egyptian desert that dates back 4,500 years.
The remains were discovered under another temple at Abu Gurob, 20 kilometers south of Cairo. Ancient remains are believed to be one of six sun temples built some 4,500 years ago. Only two of these temples have been found to date.
Mission co-director Massimiliano Nuzzolo, an assistant professor of Egyptology at the Polish Academy of Sciences' Institute for the Mediterranean and Oriental Cultures in Warsaw, told CNN on Monday ancient remains appeared to be from the mid-25th century BCE.
Nuzzolosaid it had been partially uncovered in 1898 before but mistakenly identified as part of an existing temple.
"The archaeologists of the 19th century excavated only a very small part of this mud bricks building below the stone temple of Nyuserra and concluded that this was a previous building phase of the same temple," Nuzzolo wrote in an email.
"Now our finds demonstrate that this was a completely different building, erected before Nyuserra," he said.
Archaeologists digging at the site in 1898 uncovered the sun temple of Nyuserra, also known as Neuserre or Nyuserre, the sixth king of Egypt's 5th dynasty who reigned between 2400 and 2370 BCE.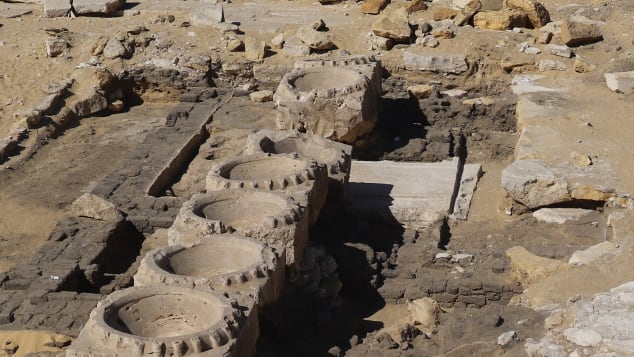 The dig reveals that underneath the sun temple of Nyuserra, the sixth king of the 5th dynasty in Egypt was another sun temple.
Nuzzolo and his team uncovered seals etched with the names of previous monarchs, as well as the foundations for limestone columns and a threshold. Dozens of preserved beer jars filled with a form of mud used in religious rites were also discovered.
The temple was "impressive in size," according to Nuzzolo but due to being built out of mud bricks rather than the typical stone, it was easily destroyed when a new king wished to build his own temple on top.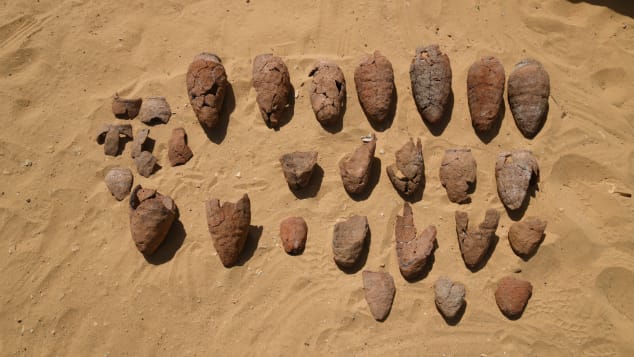 The temples were constructed while the Fifth Dynasty pharaohs were still living, with the intention of elevating them to the position of deity. Pyramids, on the other hand, were constructed as the last resting places to ensure that pharaohs were resurrected as gods in the afterlife.
Since this recent find was made out of mud brick, it's possible the remaining temples were also made from this perishable material and could be difficult to find.
The dig was conducted together by the Polish Academy of Sciences and the University of Naples L'Orientale.