The stamp seal unearthed during the rescue excavations of Çavlum Village on the Eskişehir Alpu Plain is the oldest meerschaum artifact found in Anatolia.
Meerschaum, which is used in making ornaments and pipes due to its light, soft and non-flammable properties, is mined in Eskişehir in Turkey.
Even though meerschaum is mined in a few countries in the world, most of the commercially workable deposits are located in Eskişehir.
Çavlum stamp seal, the oldest meerschaum work
During the salvage, excavations were carried out between 1999-2001 in Çavlum Village on the Alpu Plain, 16 kilometers east of Eskişehir province, the oldest processed meerschaum a stamp seal was found.
The stamp seal was found in the grave of an 8-year-old boy among 73 graves unearthed during the salvage excavations.
It is seen that there is only one line on the printing surface of the dead gift stamp seal, which was placed in a stone cist dating to the Middle Bronze Age (18th century BC). The reason is believed to be because the seal was placed as a dead gift before it was completed.
The stamp seal, which is a significant source of knowledge about the history of meerschaum usage, features a handle (diameter: 0.9 cm.) and a 1.6 cm. The imprinted face seal is 2.3 cm in length. It is possible that the line on the printing surface caused a fracture on the edge of the printing surface during production, resulting in no other traces on the seal, or that the seal was not fully finished.
The in-situ findings in Çavlum Middle Bronze Age Cemetery, where the stamp seal is found, also contribute to the emergence of new ideas on the Middle Bronze Age burial customs and to illuminate the problems related to the period.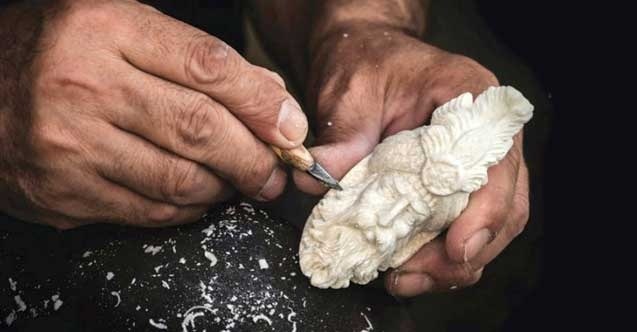 What is Meerschaum?
Meerschaum, which has a white, light, and soft feature, is a type of rock formed as a result of the hydration of magnesium and silicon-based main rock fragments in metamorphic layers at various depths of the ground, by hydrothermal effects.
Meerschaum was named sepiolite in the mid-19th century by the German mineralogist (E. F. Glocker). This name comes from the Greek name for cuttlefish, "sepion".
The processing of meerschaum, known as "Meerschaum" (seafoam) in German, as an artifact, dates back to about 5 thousand years when the data obtained from the latest archaeological excavations are examined.
Although meerschaum is mined in some parts of Greece, the Moravia region in the Czech Republic, France, Spain, Morocco, the USA, and Africa, almost all of the deposits are located in Eskişehir.
Source: Dumlupınar Üniversitesi, Fen-Edebiyat Fakültesi Öğretim Üyesi Doç. Dr. A. Nejat BİLGEN'in "ÇAVLUM ORTA TUNÇ ÇAĞI NEKROPOLÜ'NDE ELE GEÇEN LÜLETAŞI MÜHÜR" adlı makalesi Elektronik Sosyal Bilimler Dergisi www.e-sosder.com