Archaeologists found the burial site of women and children just below the surface of the sand dunes on Whitesands Bay near the city of St David's in Wales.
In what is now a popular beach, archaeologists have found the remains of around 200 people believed to belong to a Christian community dating back to the sixth century.
Since the early 1920s, archaeologists have been focusing on the area near St David's, and natural erosion, storms, and archaeological excavation have contributed to revealing burials.
Archaeologists discovered that every individual was buried with the head looking west and no valuables, as is customary in early Christian burial traditions, and that some were buried in cists, which were lined and capped with stone slabs.
Dyfed Archaeological Trust and the University of Sheffield are now racing against the clock to discover what more secrets the dunes may hold before they are lost. Following severe storms in 2013 and 2014, a rescue excavation was conducted, followed by two seasons of work in 2015 and 2016, during which 90 burial sites were located in total.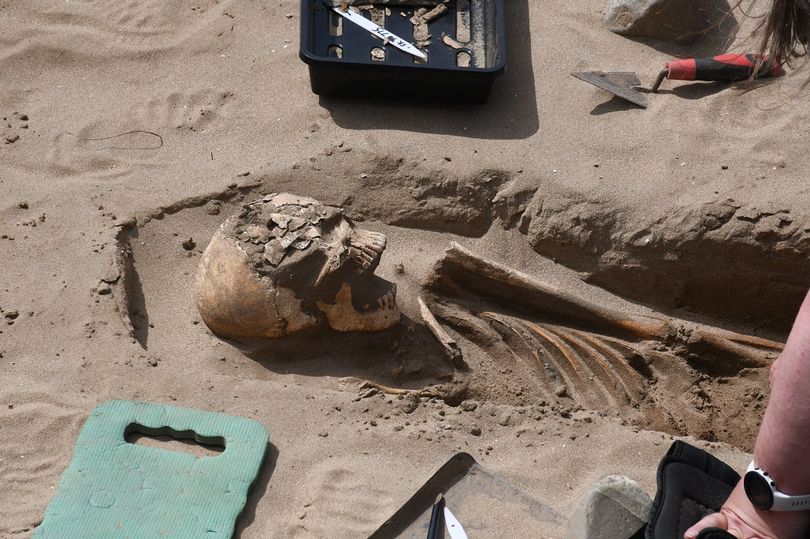 The team has now returned to explore what else they can learn about the individuals who worshiped at the place in the past.
In 2004, the Pembrokeshire Coast National Park Authority attempted to safeguard the Scheduled Ancient Monument by placing big boulders on the dunes to impede erosion. Stormy weather, however, drove the boulders away in 2014, exposed further burials.
Jenna Smith at Dyfed Archaeological Trust, which is leading the dig, said the preservation of the bones is "absolutely incredible" because they have been completely submerged in sand.
She told the BBC: "It's really important that we do so because it gives that snapshot in time which we don't normally get in Wales.
"The bone doesn't normally exist and the main reason that we're here is that we are here to stop the bones and the burials from eroding into the sea."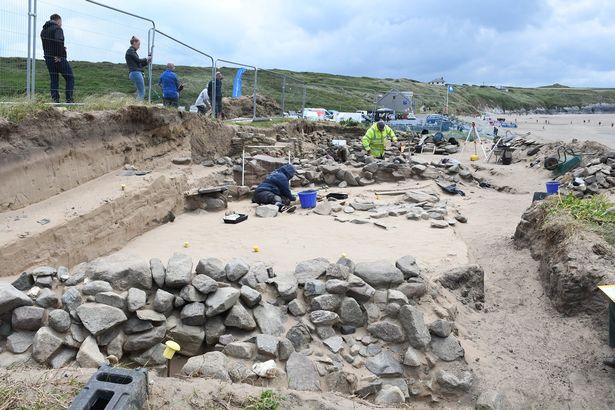 The burials were of various ages, with a mix of males, women, and children, according to an analysis conducted by the University of Sheffield.
Some of the skeletons were found in cists, which are graves lined and capped with stone slabs that were widespread in western Britain in the early medieval period. Some of the infant burials were discovered to have an uncommon feature, with white quartz stones laid on top of the cists.
The Dyfed Archaeological Trust said there is "still a significant amount of evidence left to excavate," including an "intriguing stone structure which pre-dates the burials".
The dig is scheduled to end on July 16, after which the site will be backfilled, however, Dyfed Archaeological Trust hopes to unearth as much of the cemetery site as possible due to erosion concerns.