During the demolition work of the buildings in front of the historical city walls for the City Square National Garden project in the province of Sinop on the Black Sea coast of Turkey, 2,500-year-old bull heads shaped alto-relievo were found.
According to the news of Gökhan Güçlüoğlu from Anadolu Agency, the demolition of the buildings in front of the historical city walls continues within the scope of the City Square Nation Garden Project implemented by the Ministry of Environment, Urbanization and Climate Change in the Sinop. Within the framework of the demolitions that started on December 16, 2021, the demolition of five buildings, including the service building of Sinop Municipality, has been completed so far.
With the demolition of the structures within the scope of the project, which aims to bring the historical castle walls to tourism, a 2,500-year-old bull head alto-relievo embroidered on the castle wall was also unearthed.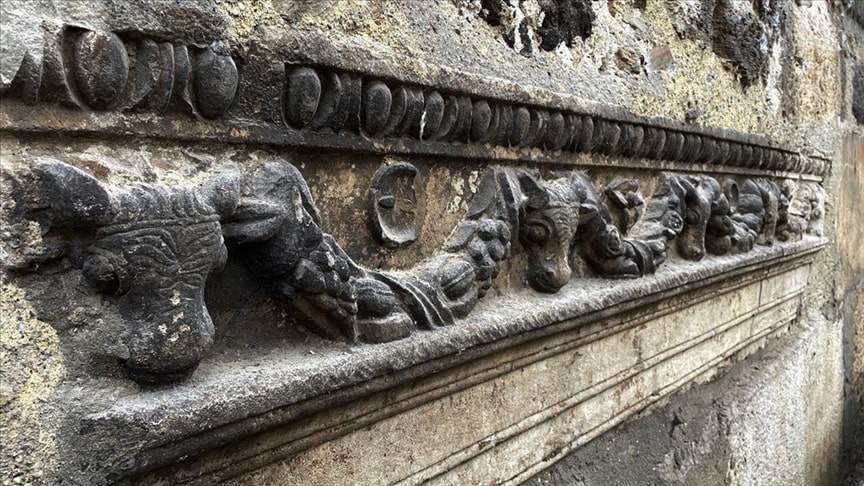 It is estimated that the relief carved on the castle wall consisting of four bull heads was designed as a symbol of power in ancient times.
What is the alto-relievo?
Relief, also called relievo, in sculpture, any work in which the figures project from a supporting background, usually a plane surface. Reliefs are classified according to the height of the figures' projection or detachment from the background.
In a high relief, or alto-relievo, the forms project at least half or more of their natural circumference from the background and may in parts be completely disengaged from the ground, thus approximating sculpture in the round.