A gold disc struck with a fake inscription imitating an Arabic dinar found near Morston, Norfolk in April 2021 may have been made by the Vikings.
According to a report on the BBC website, the "spectacular" 9th-century gold coin has been declared treasure by a coroner.
Professor of Early Medieval English History at Cambridge University, Rory Naismith, was quoted as saying that "the Vikings had a lot of contact with the Muslim world" so it was "plausible" that they could have struck imitation dinars. "It's very unusual to find such a thing and it's completely unique," he added.
The fake coin is embellished on both sides with a beaded border that surrounds an "inscription" made up of vertical strokes on the obverse and horizontal strokes on the reverse. The lines have raised dots at the ends, and the horizontal lines alternate with rows of dots. This is such a crude imitation of Arabic script.
Islamic numismatics experts have dated the coin that inspired the copy to the Abbasid dynasty (770-820 A.D.).  That doesn't necessarily mean the copy is from the same era as the original, especially since there were likely several generations of copies between the original and this imitation. The estimated date range is between the late eighth and mid-tenth centuries, with the most likely window between 780 and 850 AD.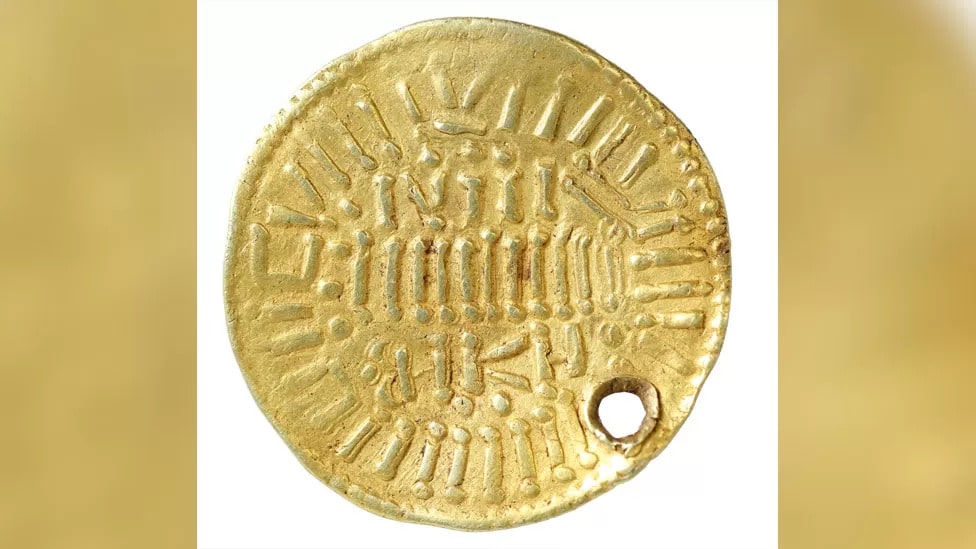 According to the report, the "coin" also has a hole punched into it, indicating that it was possibly designed as jewelry, and that some gold dinars from the Anglo-Saxon period arrived in England via Italy.
Hundreds of coins, mostly silver and bronze, that were reused as ornaments have been discovered in Viking-era graves and hoards. It was a simple way for people to make their own jewelry because it required no specialized knowledge or equipment to pierce a coin (a nail and a hammer would suffice) or attach a loop to it. Converted gold coins are rarer and served as status symbols for their owners.
The imitation dinar was "most likely" struck in the second half of the 9th Century, Professor Naismith believes because it was a period when Vikings were active in the area. As there is no evidence that Arab traders came to England at this time, he suggested that the coin had been struck in Scandinavia, before being lost in Norfolk.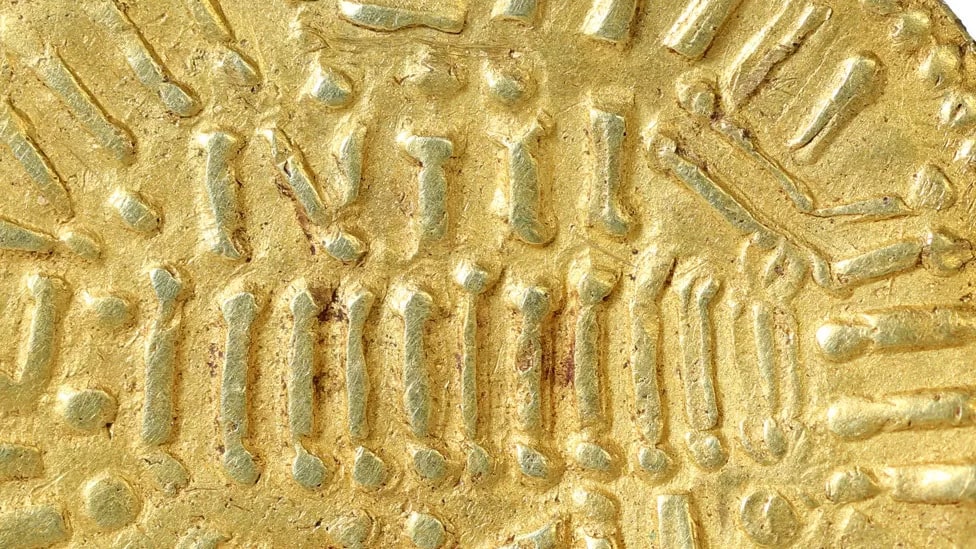 During their raids and expeditions across Europe and beyond from the eighth to the eleventh centuries, the Vikings encountered Muslims. Trade, diplomacy, and military operations all played a part in these interactions.
Cover Photo: The imitation is "a bit ropey" and seems to be made by someone who unable to get the Arabic right, Rory Naismith said. Photo: ANDREW WILLIAMS/ Suffolk County Council Archaeology Service