Archeologists in France have discovered the wreck of a ship that navigated the Garonne river in southwestern France in the 7th-8th century.
The French National Institute for Preventive Archaeological Research (Inrap) revealed the 12-meter (40-foot) boat to the public Wednesday in Villenave-d'Ornon on the banks of the Garonne in southwest France.
The wooden ship was discovered buried beneath the Estey de Lugan, a silted-over creek just outside of Bordeaux. The biological parts of the ship, including some rope fittings, have been preserved for 1,300 years by the thick, water-logged clay.
There is almost no surviving written history chronicling navigation methods from the period, so the survival of this shipwreck is a unique testimonial to naval design in early medieval France.
The wreck is about 40 feet long, out of an estimated original length of about 50 feet when it was intact. The keel and dimensions indicate it was a cargo ship capable of both river and coastal navigation. It has a flat floor that would have allowed it to carry bulk goods. Both oak and softwood were used to construct it.
However, the wreck's beams of oak, chestnut, and pine are delicate enough that air could destroy it. That's why watering every 30 minutes is necessary to limit the degradation of the wood.
The boat is being taken apart to uncover its true nature and to learn about shipbuilding in the Middle Ages. Piece by piece will be dismantled and numbered. This dismantling will allow for a detailed analysis of the boat's construction, an important operation to identify the naval architectural tradition to which it is attached.
The wreck's clearance will provide archaeologists with an unprecedented opportunity to investigate how it was built and how it traversed the rivers. The crew will also be able to do research on the waterways themselves.
Other artifacts were found within the wreckage.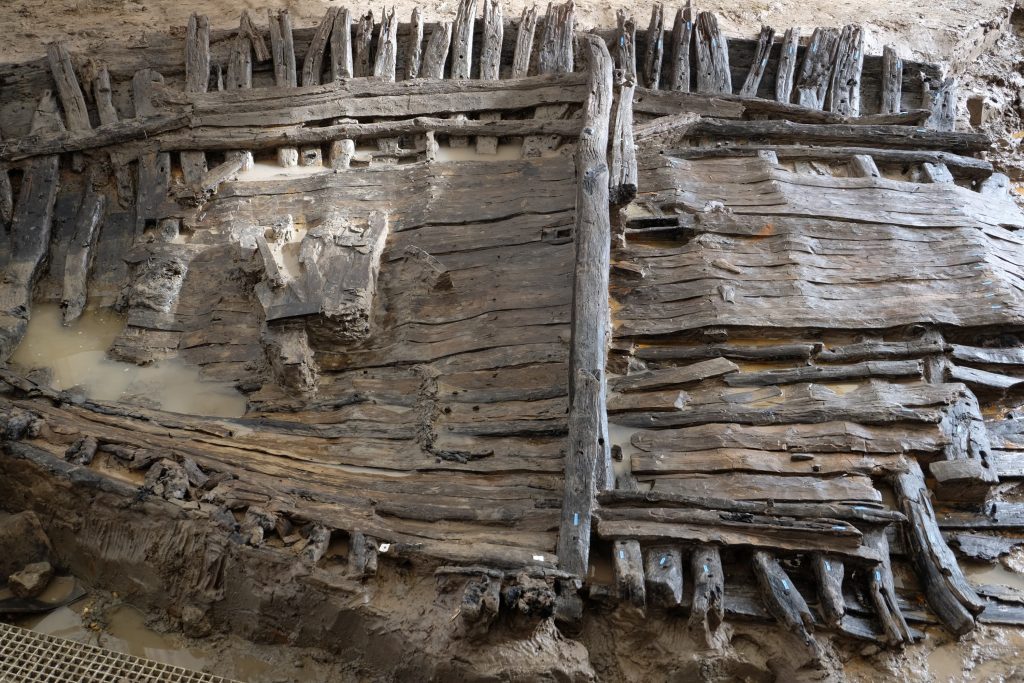 Laurent Grimbert, Inrap archaeologist said: "Inside the boat, between the floorboards, between the ribs and the hull, we found some ceramic elements, which correspond to the 7th-8th century, so that s not too bad," said Laurent Grimbert, Inrap archaeologist.
"Pieces of leather that may have belonged to someone who worked with leather on board the boat and who threw away a scrap, a fragment of a wooden spoon that may have belonged to someone who lived in the boat or who had lunch there," he added.
Cover Photo: General view of the boat. Photo: Patrick Ernaux, Inrap