Archaeologists have discovered a ceremonial cave site in Chemuyil on the Yucatán Peninsula, Mexico, that dates from the Postclassic Maya period.
As is known during the pre-Hispanic era diverse cultures existed throughout the territory of Mexican, but it was the Maya one of the most prevalent and the one that left the greatest records of its passage.
The Maya believed that the universe was split into three parts: heaven, earth, and the underworld, with caverns serving as a conduit or gateway to Xibalba, a realm governed by the Maya death gods and their assistants.
The Instituto Nacional de Antropología e Historia (INAH) was notified of the site by personnel from the civil association Círculo Espeleológico del Mayab and the Urban Cenotes Project of Playa del Carmen, who identified archaeological remains whilst mapping cave systems in the region.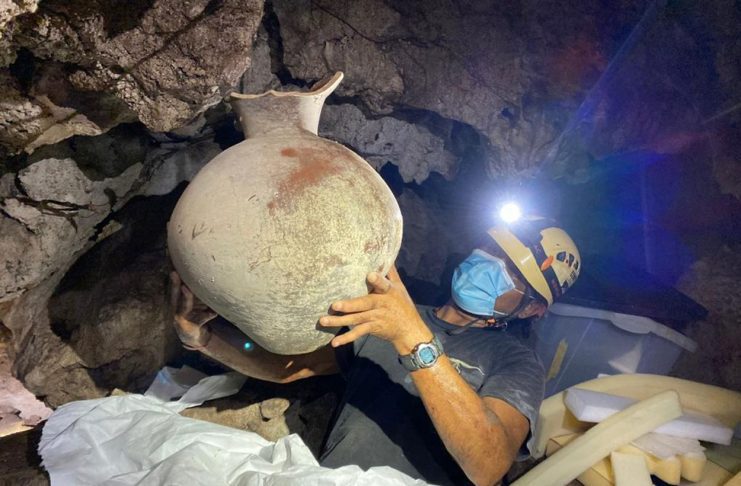 A team led by archaeologist Antonio Reyes was despatched to the site, where they discovered two vessels, one entire and the other broken, as well as a tripod bowl dating from the Late Postclassic Maya (1200–1550 AD).
The first is a Navulá-type monochrome vessel that still has one of its two handles, whilst the second is a globular pot, which was found fragmented because of tree roots that crushed the vessel against some rocks.
Both vessels were positioned in natural niches where water dripped down from stalactites, whilst the tripod bowl was placed face down and covered with stones. The researchers believe that the bowl was a ceremonial offering, whilst the two vessels were used for the ritual collection of water from the stalactites.
Although there are no major Maya centers within Chemuyil, the people living in the area between Playa del Carmen and Tulum often used many of the natural cavities, cenotes, and cave systems for ceremonial purposes.
Cover Photo: Antonio Reyes