Professor Semih Güneri, retired faculty member from Dokuz Eylul University (DEU) Caucasus Central Asia Archeology Research Center, stated that they have reached new archaeological documentation transferred from Siberia to Göbeklitepe, and said stone tools were found produced by printing method as proof of technology.
Professor Semih Güneri attended the "Proto-Turks Bearing Culture to the World Workshop" held in Istanbul on 11-13 June as an invited speaker.
Professor Semih Güneri made the first presentation of the Siberia-Göbeklitepe hypothesis, which they developed in recent years, in two separate sessions with his colleague Professor Ekaterine Lipnina.
Professor Güneri stated that there was a migration that started from Siberia 30 thousand years ago and spread to all of Asia and then to Eastern and Northern Europe, and stated that they followed these migrations through archaeological documents.
Professor Güneri stated that the most important branch of migration extends to the Near East and said:
"The mass migrations from Siberia to the Zagros by using the Central Asian mountain corridor must have reached the Göbeklitepe culture areas via northern Iraq. According to the current results of our research with our Russian colleagues, concrete traces of stone tool industries produced by printing technology by Upper Paleolithic Siberian peoples, represented by the Early North Asian genetic group, in the region were previously revealed by our Russian and European colleagues."
"We see the products of the printing micro blade technology developed by the old North Asian peoples since 30 thousand BC, in the Zagros Mountains region in the Early Holocene. The technology is then transferred to the Göbeklitepe culture. Although the Göbeklitepe culture represents an earlier period in the formation process, the Eastern Mediterranean Epi-Paleolithic cultures do not have a decisive role. The relationship of Göbeklitepe high culture with the carriers of Siberian pressed microblade stone tool technology is no longer a secret. The results of genetic analyzes of the Zagroslar region confirm the traces of the Siberian/North Asian indigenous peoples, who reached the Zagros via the Central Asian mountainous corridor and met and fused with the Göbeklitepe culture over northern Iraq."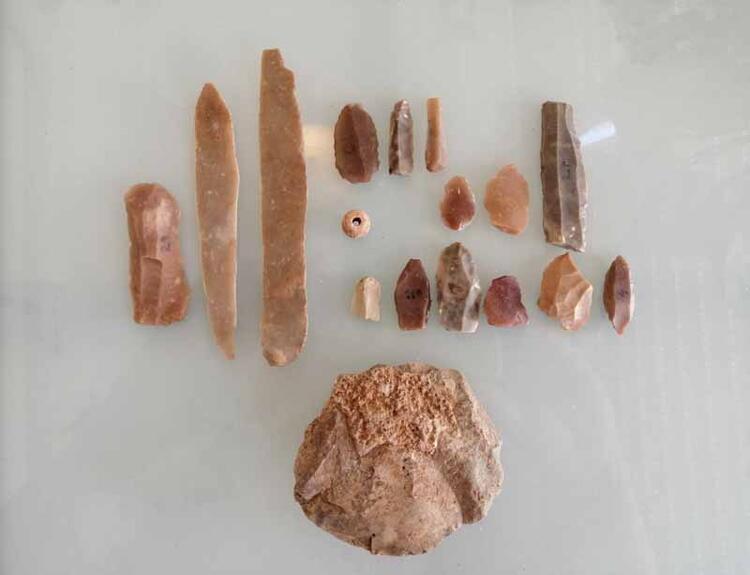 Microblades are meticulously being taken out
Noting that they carried out research in the Baykal region in 2019, both at the excavation sites and at the laboratories, Prof. Dr. Semih Güneri pointed out that the study was published in the most respected archaeological peer-reviewed journal in Turkey and said, "The imprinted microblade we are working on are tiny cutters of 2-5 mm in size. These are precision tools used in the finest works by arranging them on bone material. The fact that our study was published in such a journal confirms our hypothesis. We have announced our work to wide circles for the first time at an international meeting, the Proto-Turks Bearing Culture to the World Workshop."
"Migration movements are considered as migration only if they can be verified with archaeological documents," said Prof. Dr. Guneri continued:
"The Siberian-Near East Upper Paleolithic migrations is a process that has been confirmed by material cultural documents. The stone tool production technology we are talking about obviously moved from east to west about 7 thousand kilometers. It is not clear whether this technology was transmitted over long distances directly by the earliest Turkic-speaking peoples or traveled long distances by being transported to intermediate stations, but still, from archaeological documents, we know that Siberian peoples reached the Zagros region. Relationships seem to have existed between Siberian hunter-gatherers and native Zagros hunter-gatherers. The results of genetic studies show that the Siberian peoples have already reached the Zagros. Such results may emerge when genetic studies are carried out on the Göbeklitepe culture region. The Siberia-Göbeklitepe hypothesis and the published article are the results of collaborative work with my PhD students."