The team of French and Jordanian archaeologists has discovered a 7,000-year-old ritualistic complex near what is thought to be the earliest known large human-built structure worldwide deep in the Jordanian desert.
Minister of Tourism and Antiquities Nayef Al Fayez on Tuesday announced the discovery of a "unique ritual installation" dedicated to mass hunting of gazelles during the Neolithic period using gigantic traps called "desert kites" in the south-eastern Badia by a joint Jordanian-French archaeological team in Al Jafr's Khashabiyah Mountains.
Archeologists also found over 250 artifacts at the site, including exquisite animal figurines which they believe were used in rituals to invoke supernatural forces for successful hunts.
The objects, which include two stone statues with carvings of human faces, are among some of the oldest artistic pieces ever found in the Middle East.
The archeological team said during a press briefing at the Department of Antiquities that the site comprises eight kites that span 20 kilometers from north to south and are linked to the "Ghassanid Occupation," as they employed these stone traps to hunt deer and catch animals in semi-circular chambers.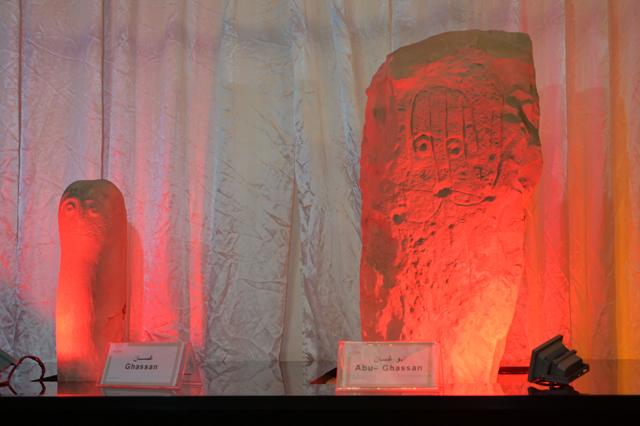 Although such structures, known as "desert kites" can also be found elsewhere in the arid landscapes of the Middle East and southwest Asia, these are believed to be the oldest, best-preserved, and the largest, the experts said.
According to the archeology team, the facility also contains a "ritual installation", which has two standing steles (Abu Ghassan and Ghassan), in addition to an altar, as well as various artifacts, 149 marine fossils, animal dolls, and exceptional flint tools.
"Collective hunting was central to the ritual practices of the Ghassanid," the archeologists said, noting that the significance of the facility lies in the fact it was dedicated for worship.
Fayez, during the press conference, highlighted Jordan as a "cradle of civilisations which continues to amaze the world with new archaeological discoveries, not only at a local scale but also at an international level".
The Neolithic-era ritual site was discovered inside a larger campsite last October by a joint French-Jordanian team called the South Eastern Badia Archaeological Project.
The nearby desert kites in Jibal al-Khashabiyeh are "the earliest large-scale human built structures worldwide known to date," said a statement by the SEBA Project.
The "desert kites"are: Constituted of two or more long walls converging towards an enclosure, these mega structures can reach over several kilometers in length, and they are sometimes organized in chains of contiguous and uninterrupted structures, maximizing the potential for wild game capture, the statement said.