Archaeologists in northern Peru have discovered a 3200-year-old mural. The mural was painted on the side of an ancient adobe temple. It is thought that the mural depicts a stylized zoomorphic Spider god related to rain and fertility, wielding a knife.
The mural, applied with ocher, yellow, gray, and white paint to the wall of the 15 MX 5 m adobe structure in Virú province in Peru's La Libertad region, was discovered last year.
Experts believe the shrine was built by the Cupisnique culture in the pre-Colombian era.
Archaeologist Régulo Franco Jordán said that the strategic location of the shrine by the river led researchers to believe that it was a temple dedicated to the god of water.
"What we have here is a shrine that would have been a ceremonial center thousands of years ago," he told Peru's La República newspaper.
"The spider on the shrine is associated with water and was an incredibly important animal in pre-Hispanic cultures, which lived according to a ceremonial calendar. It's likely that there was a special, sacred water ceremony held between January and March when the rains came down from the higher areas."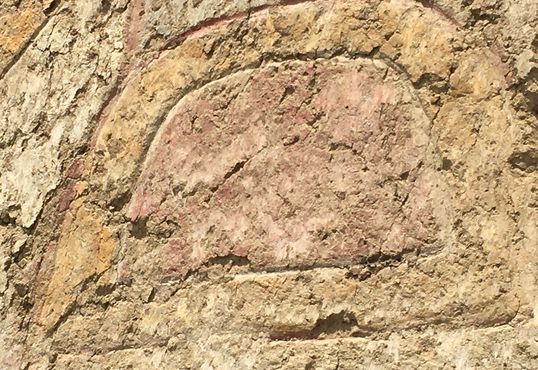 According to the archeologists, about 60% of the complex, which lies 500km north of Lima, was destroyed in November last year when farmers in the region used heavy machinery to try to extend their crop fields.
"The site has been registered and the discovery will be covered up until the [Covid] pandemic is over and it can be properly investigated," he told La República.
What is Cupisnique culture?
While the Cupisnique culture was once considered to be simply a coastal variant of the Chavín culture, it was later recognized as an independent cultural tradition that provided one of the sources of inspiration for the slightly later Chavín culture. The Cupisnique culture spread along the Peruvian coast from the Virú valley to the Lambayeque drainage and maintained close relationships with the adjacent highland cultures and the occupants of the immediate coastal valleys to the north and south.
The center of Cupisnique culture was the rich but arid lands of the lower coastal valleys, and its economy was based mainly on irrigation agriculture and fishing.
Cupisnique culture source: https://www.encyclopedia.com/humanities/encyclopedias-almanacs-transcripts-and-maps/cupisnique-culture
Cover Photo: Régulo Franco