A text from the early 18th century mentions the castle, which has become a bit of a legend. It has not been seen since, despite the efforts of numerous archaeologists to locate it. Jan-Henrik Fallgren, a researcher, has discovered Sörby Borg, the largest ancient castle in the country.
When archaeologist Jan-Henrik Fallgren found the castle's name in a 1704 treatise, he went looking for it and managed to find it in Skedemosse, a now-devastated lake.
Nicholaus Vallinus, a Öland priest, mentions the word Sörby Borg in his dissertation "Om Öland" in 1703. However, no specific location for the castle is given, and despite several attempts, the old fortress has yet to be found.
The village of Sörby is located just over a mile from the site. The land here belonged to Sörby during the 18th century, says Jan-Henrik Fjallgren. According to Fallgren, the failed attempts were due to the researchers looking in the incorrect area. (SVT)
The castle is located immediately west of Bredsättra in Kvinnön ("Women's Island"), which was also an island before Skedemosse was excavated 400 years ago.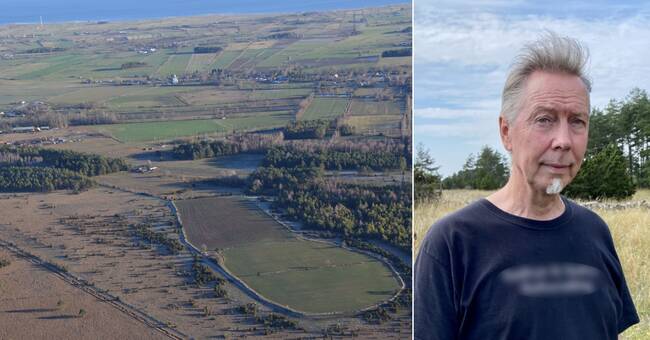 "What is special and exciting is that you can see that there has been an ancient castle on a likely sacred island in a sacred lake where people sacrificed to the gods for almost 2000 years," Jan-Henrik Fallgren said.
Many people were skeptical when Fallgren's discovery of the castle was originally reported in archaeological circles. However, he used ground radars to investigate the region and was able to show that there was a significant number radially of house foundations in a pattern similar to that of other fortresses on the island.
With the help of ground radar, house foundations and a deep well were found.
When Skedemosse was a lake, perhaps called Skede lake, the castle was surrounded by water on three sides and only needed to be defended on one side, the eastern side. The castle is Öland's largest and perhaps the oldest.
"I have received a lot of congratulations from colleagues around Sweden and Scandinavia – and the whole world in fact," Jan-Henrik Fallgren said. "The fact that you can now found a brand new ancient castle here on the island is sensational in many ways", he concluded.
Skedemosse was one of Sweden's largest sacrificial sites from 400 BC to the 12th century. About 1 ton of human and animal bones, including 100 horses, were found during excavations in the 1960s. C14 analysis of the bones showed that the oldest victims were from the pre-Roman Iron Age and the youngest was from the late Viking age. In addition, seven gold rings with a total weight of 1.3 kg were found.