A snail fossil dating to the age of 60 million was found in Mersin's Toroslar district.
The snail fossil discovered by Süleyman Uygun was examined by Professor Deniz Ayas from Mersin University Faculty of Fisheries. Professor Deniz Ayas said that "that the snail fossil dates back 60 million years"
Snail Fossil, Belonging to the Paleocene Period
"The snail fossil is a rare species and belongs to the Paleocene period from 60 million years ago," said Professor Deniz Ayas, a faculty member at the Faculty of Fisheries at Mersin University, who studied the snail fossil found in the Arslanköy District of Mersin's Taurus district.
"A large number of fossils are found in the Taurus Mountains. Anatolia was the bottom of the Tethys sea in ancient times. Anatolia is a region that rose as a result of the African continent hitting Eurasia. For this reason, it is natural to find a large number of marine fossils. This is a snail fossil from the Paleocene period. Since these are limestone skeletons, they can easily be fossilized. We see a lot of fossils in this region, but these are one of the rarer ones," he said.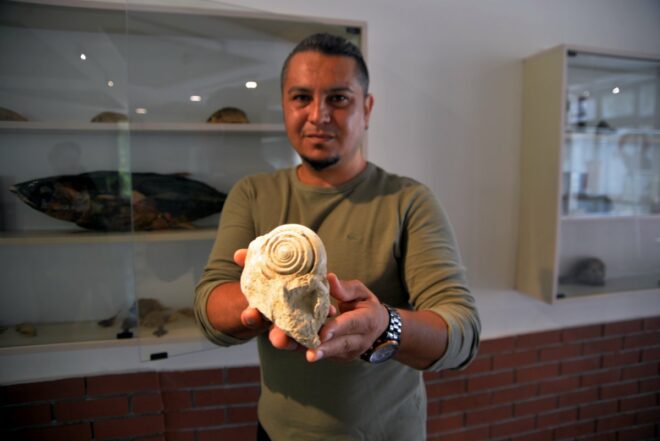 Donate to the Museum
Saying that they will exhibit the fossil in the museum, Ayas said, "The Paleocene period is 60 million years ago. We cannot talk about Anatolia in this period. It passes as the base of the Anatolian Tethys Sea. A marine creature fossil from those times. There are many examples, which prove that Anatolia is a seafloor. Mersin is very rich in terms of fossils. People come across these fossils while wandering in nature. It sounds interesting to people and they house it at home. This is not true, because fossils have scientific significance. Museums are an opportunity for fossils to be seen by other people. "I am calling for those who have fossils to donate to the museum" he spoke.
Paleocene Period
The Paleocene period is the geological time period that started 65 million years ago and ended about 55 million years ago. At the end of the Kraetase period, Anatolian began to appear, similar to today.
According to the International Chronostratigraphic Chart; The first time period of the Paleocene Period is Cenozoic Time. Cenozoic Time is the period after the dinosaur extinction period. Before the Cretaceous in a Mesozoic, then the Eocene in Cenozoic.
Source: DHA