A larger-than-life youthful Hercules statue dating to the 2nd century A.D. have been found in the ancient city of Philippi in northern Greece.
The Statue of Hercules, unearthed by archaeologists from the Aristotle University of Thessaloniki, may have adorned a public fountain.
The statue depicts a youthful Hercules, the Roman equivalent of the Greek Heracles. The statue of Hercules dates to the 2nd century A.D. and is in unusually good condition despite suffering some damage. The club and the right arm are fragmented, and the right leg below the thigh is missing, but the head is intact, as are the torso and the tell-tale skin of the Nemean Lion. On top of his abundant mane of curls is a wreath of vine leaves tied around his head by a band that dangles down his neck and shoulders.
Alongside the statue, a richly decorated structure, potentially a fountain, was also found.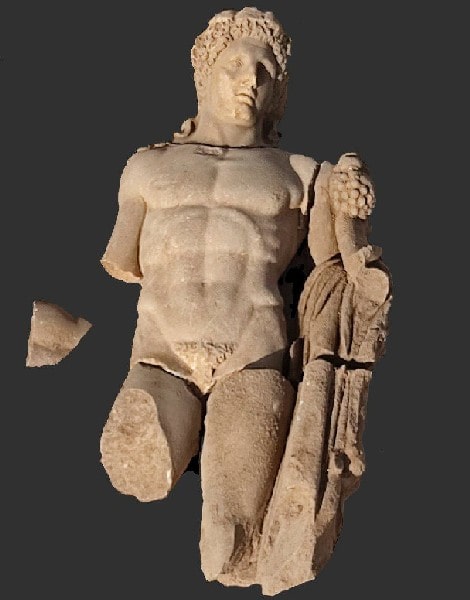 According to the research team, based on the excavation findings, the statue adorned a much later building from the 8th or 9th century. According to contemporary sources, Classical and Roman-era statues were used to decorate buildings and public spaces until the Late Byzantine period.
The discovery at Philippi confirms that pre-Christian statues were used to decorate public spaces in important Byzantine empire cities.
According to the announcement from the Hellenic Ministry of Culture and Sports, excavations were carried out in Philippi by the Aristotle University team, which included Professor Natalia Poulos, the excavation's director, and collaborators Assistant Professor Anastasios Tantsis and Emeritus Professor Aristotle Menzos. The excavation involved a total of twenty-four AUTH students. Aristotle University and the AUTH Research Committee funded the study.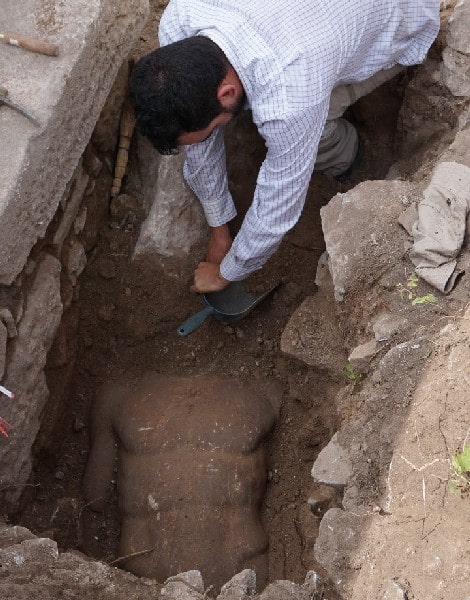 The excavation is set to continue next year.
The ancient city of Philippi was first built in 360 BC. It was founded as  Crenides by colonists from the island of Thassos. The town was conquered by Philip II, King of Macedon, and refounded as Philippi in 356 BC. It rose to prominence as a result of its proximity to gold mines and strategic location on the royal route through Macedonia. Little remains of the Greek city today. It is famed as the site of the final battle between the armies of Caesar's partisans Octavian and Mark Antony and those of his assassins Marcus Junius Brutus and Gaius Cassius Longinus in 42 B.C. Philippi prospered under the Roman Empire, continuing through the fall of the Western Empire and, centuries later, the fall of the Byzantine Empire. It was abandoned only after the Ottoman conquest of the 14th century.
Cover Photo: Hellenic Ministry of Culture