Stone walls, a Roman sarcophagus, and a cremation burial have been unearthed in a renovation project at the Bathwick Roman Cemetery in the center of Bath, southwest England.
Inside the casket, the bones of two people were discovered—one in a prone position, the other at the feet of the first. Small red and blue beads, and a pot that may have held a food offering, were also recovered.
Speaking to BBC News, archaeologist Kelly Madigan said finding a skeleton in a coffin was a "rare glimpse" of burial practices 2,000 years ago.
Ms. Madigan of LP Archaeology said that preliminary laboratory tests are currently underway and hope to conduct further analysis to learn more about who the people in the coffin are, where they come from, and their overall health and welfare.
"Having a human skeleton directly associated with a coffin is a rarity and to have this one associated with a probable votive offering and nearby human cremation, allows a very rare glimpse into funerary practices in the region almost two millennia ago."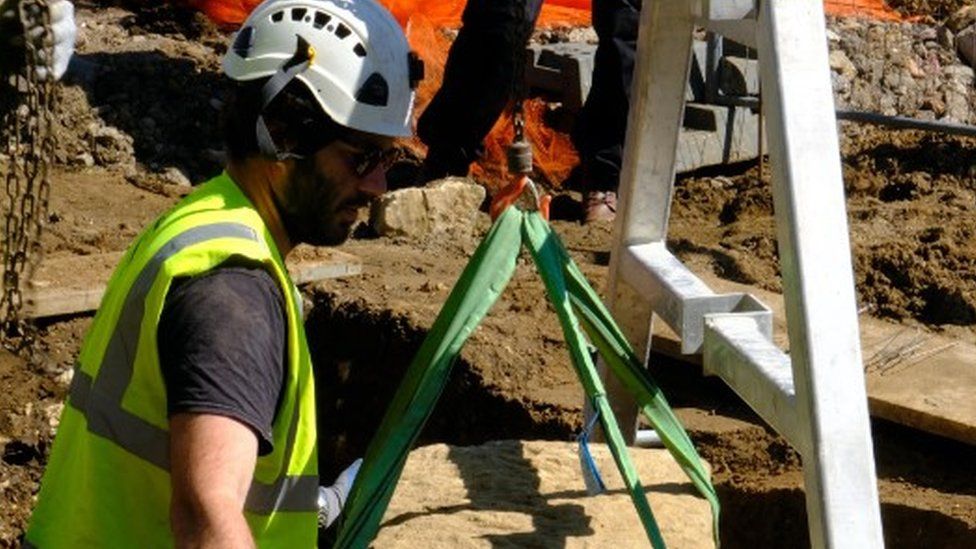 The casket was found in a grave about two metres (approx 6ft) long, 60cm wide and 50cm (about 23in to 19in) deep.
ts north-facing aspect suggests a pagan burial, experts said.
A cremation burial was also recovered and is the only recorded cremation burial from the Bathwick Cemetery to date.
Historic England advisor Sylvia Warman said: "This is a first for Bathwick and a really significant find for Roman Bath and the World Heritage Site.
"When completed, a scientific study of the remains will likely tell us much more about the lives, death and burial practices of the inhabitants of Roman Bath."
Initially, a Roman wall was unearthed and as groundworks continued on the edge of the Bathwick Roman cemetery, the coffin was discovered.
Once testing has been completed the coffin could be displayed in the Temple of Minerva in the Botanical Gardens, Bath and North East Somerset council said.
Cover Photo: L-P ARCHAEOLOGY