Chinese archaeologists have discovered ancient ice skates made of animal bones at the Gaotai Ruins in the Xinjiang Uygur Autonomous Region in northwestern China.
Announcing the incredible find at a recent press conference, researchers said the ancient skates were created from ox and horse bones and are likely to be over 3,000 years old.
Xinjiang, located at the crossroads of China, Mongolia, Kazakhstan, and Kyrgyzstan, is a mountainous region widely regarded as the birthplace of skiing. Cave paintings discovered in the Altai mountain range around 10,000 years ago appear to depict hunters on skis, while the Altai people who live in the area maintain an ancient tradition of hand-crafting wooden skis for transportation.
The skates were discovered in a tomb from the 16th and 15th centuries BC in the Gaotai Ruins, about 240 miles (385 kilometers) west of the regional capital Ürümqi, according to Ruan Qiurong, a researcher with the regional institute of cultural relics and archaeology in Xinjiang.
It is unknown if the skates were used for daily transportation or for hunting. They are made of a straight piece of bone with holes drilled into it at either end, allowing them to be fastened to shoes. In contrast to modern skates, the resulting "blade" is incredibly flat, but it served as a cutting edge that made it possible for the wearer to glide across the ice.
Though it's unclear whether the ice skates were used for hunting, transportation, or something else, archaeologists say they're very similar to bone skates discovered in ancient Europe. They claim that this demonstrates clear evidence of communication between China and Europe during the Bronze Age.
The discovery offers new evidence for early regional exchanges in Eurasia and provides precious materials for studying the origins of skating in China, says Ruan.
Dozens of wooden vehicle parts, including 11 solid wooden wheels, were also discovered at the burial site, along with hundreds of pottery pieces, stone tools, animal bones, and bronzeware, among other relics.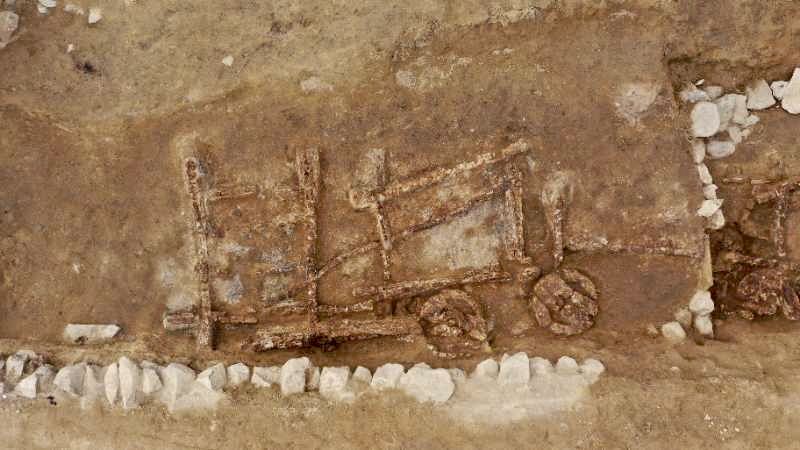 "Judging by the scattered pieces, we believe that these wooden vehicle parts were deserted by their owners, detached on purpose, and buried during establishing the tomb," excavation team leader Ruan Qiurong reportedly explained at the press conference.
The Gaotai Ruins are "the largest, highest-[class], and best-preserved stone tomb architectural remains of the Bronze Age found in Xinjiang and even the Eurasian [landmass]," according to the Xinjiang Institute of Cultural Relics and Archaeology.
Cover Photo: An animal bone skate unearthed from Gaotai Ruins. Xinjiang Institute of Cultural Relics and Archaeology