A farmer in Sulęcin county in Poland's Lubusz province discovered a rare treasure while trying to clear stones from his field.
The Lubusz Department of Historic Preservation has described artifacts found in one area as extremely rare.
"During fieldwork, a farmer found archeological relics. While removing rocks from the field, as they usually cause damage to farming machines, he discovered bronze items. He immediately suspended his work, while the site was secured," Norbert Burzyński of the Voivodeship Historic Preservation Office in Gorzów Wielkopolski notified the public via social media.
Three scepters, three bronze daggers, a tiny ax, a chisel, and a hatchet were discovered, all of which are thought to be Unetice culture artifacts (2300 – 1600 BC).
The Únětice culture (in German Aunjetitzer Kultur) is a dominant archaeological culture of the Early Bronze Age (2200-1500 BC) of Central Europe. It is the only prehistoric culture that originated in Bohemia and had a significant impact on the history of Central Europe over several centuries.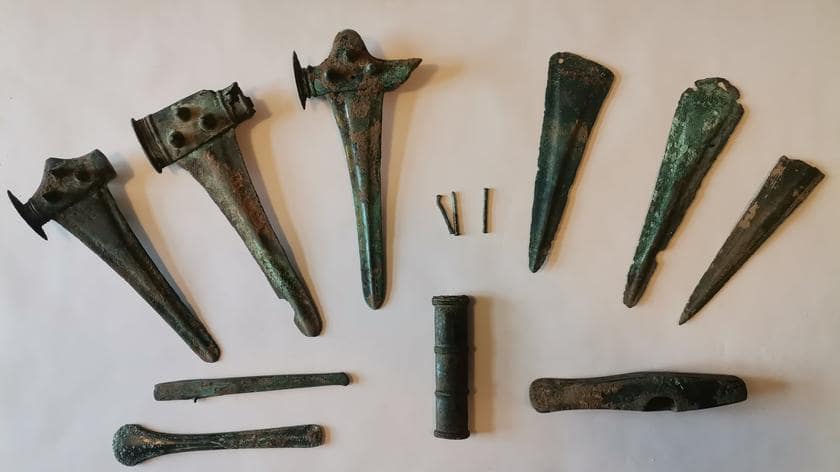 "Occurrence of more than one scepter and dagger is extremely rare and thus makes the finding very precious for the national heritage," Tvn24 wrote in a Facebook post by Burzyński.
"He immediately contacted relevant authorities and halted further work in order to prevent harming archeological finds and cultural layer," Burzyński said in an interview with the Polish Press Agency (PAP).
This was not the first significant archeological find in the Lubusz province's northern region. A bronze bracelet was discovered by a Bogdaniec resident and his kid on the slope of a landslide in January. Later on, artifacts belonging to the Lusatian culture were found in archaeological excavations.
Following this, archeologists discovered a layer of metal ornaments and pieces of a harness on a shattered vessel. This treasure consisted of 220 bronze items.
Over Photo: Lubusz Historic Preservation Office