As a result of record-low water levels brought on by the region's worst drought in over a century, faces carved into stone up to 2,000 years ago have come to light on a rocky outcrop along the Amazon River.
A severe drought means the human faces carved into rocks on the shore can now be easily spotted. Some had been sighted during a previous drought but archaeologists say they have been able to locate a greater variety of the carvings this time.
The discovery was made in the city of Manaus, in northern Brazil. They are located on a stretch of shore known as Ponta das Lajes, near where the Rio Negro and the Solimões river flow into the Amazon.
One area shows smooth grooves in the rock thought to be where Indigenous inhabitants once sharpened their arrows and spears long before Europeans arrived.
"The engravings are prehistoric, or precolonial. We cannot date them exactly, but based on evidence of human occupation of the area, we believe they are about 1,000 to 2,000 years old," archaeologist Jaime de Santana Oliveira said on Monday.
Most of the engravings are of human faces, some of them rectangular and others oval, with smiles or grim expressions.​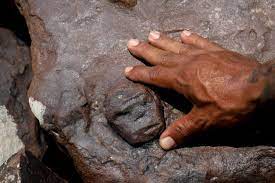 The carvings were first seen there in 2010, according to Oliveira, but this year's drought has been worse, with the Rio Negro dropping 15 meters (49.2 feet) since July, exposing vast stretches of rocks and sand where there had previously been no beaches.
"This time we found not just more carvings but the sculpture of a human face cut into the rock," said Oliveira, who works for the National Historic and Artistic Heritage Institute (IPHAN) that oversees the preservation of historic sites.
"The site expresses emotions, feelings, it is an engraved rock record, but it has something in common with current works of art," said Oliveira.
"What we're seeing here are representations of anthropomorphic figures."
The Brazilian government attributes the drought to climate change and the El Niño weather phenomenon, which has caused the volume of rainfall in the northern Amazon to fall below the historical average and river levels to drop to near-record levels.
Cover Photo: Reuters. These faces carved on rocks have reappeared after 1000 years underwater in the Manaus region of Brazil.