A newly found Knights-era painting hidden behind a bricked-up arch at the Museum of Archaeology might give insight into the original decorating of the Auberge de Provence's Gran Salon.
Heritage Malta describes the wall painting, which was uncovered during a restoration job, as a remarkable surviving artifact that might give information about the hall's decorative scheme prior to the early nineteenth century.
The Gran Salon is a stately hall that houses the National Museum of Archaeology in the Auberge de Provence. With the help of the Bank of Valletta, Heritage Malta has been working on a large conservation and restoration project since 2017. Scientific analysis and data extraction on early nineteenth-century mural artworks are allowing for the greatest possible conservation. Conservators have repaired and conserved about half of the Gran Salon walls to date.
Recently, the restorers uncovered evidence of an arch that had been blocked, and historical research revealed two fireplaces in one of the walls, apparently added by the British in the 19th century. The restorers discovered ornamental features that were radically different from the Gran Salon's existing decorative scheme when removing the pointing of the blocked-off entry.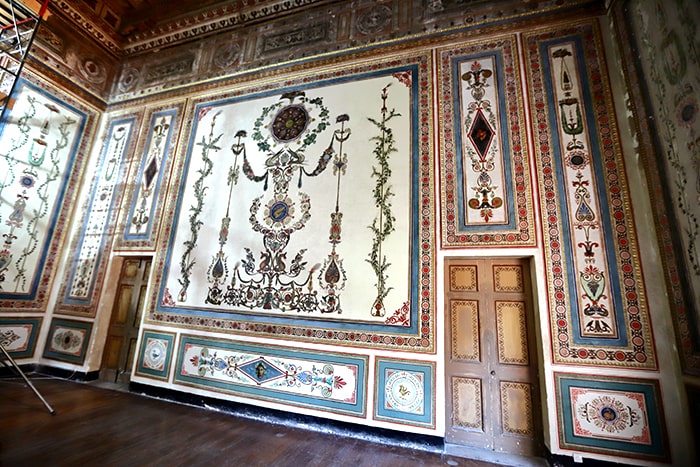 A small section of the arch was opened to assess this discovery further and exposed the decorative scheme, which was likely covered by the current one and which, although covered in soot, was relatively intact. The uncovered part revealed part of a hand holding a trident, an image usually associated with a mythological figure. The rest of the painting is currently behind the fireplace shaft and the rest of the arch. This painting is, to date, the only surviving element which has the potential to reveal information about the decorative scheme of the Gran Salon, preceding the early 19th-century redecoration of this important ceremonial space.
This is the start of a new journey into the restoration of this impressive ceremonial space,' said Heritage Malta CEO Noel Zammit. 'With the minimum intervention possible, a small part of the arch was opened to assess further and we will now be undertaking an interdisciplinary investigation to better assess and research the discovery of this early decorative scheme.'
'Bank of Valletta has participated in many prestigious restoration projects throughout the years in line with its ESG ambitions and its role within the Maltese Community,' said BOV Chief Marketing Officer Peter Halsor. 'This is a very exciting find that will definitely shed more light on the history of this building throughout the years through a project supported by the Bank.'
Cover Photo: Restorers spotted decorative elements that were completely different from the hall's decorative scheme. Photo: Heritage Malta